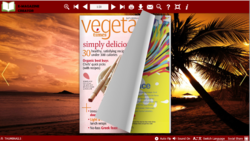 It is the best digital magazine creator I have found.
(PRWEB) December 03, 2012
Recently, eMagazineCreator, a leading provider of digital magazine creator, has published its new flip book creator product, PDF to Flash Magazine Pro, Version 2013. This is a digital magazine software, and can create unlimited flash flipbook animation.
PDF to Flash Magazine Pro is the feature-rich professional version of powerful classic Flip PDF software. It enables users to convert PDF files and embedded hyperlinks, images, flash videos, music and more multimedia objects to page-turning digital publications, magazines, and catalogues for websites, email, and mobile devices.
"PDF to Flash Magazine Pro is designed to create more stunning and special digital magazine to meet the market demand. It is absolutely a powerful flash page flipping maker to create flash flipping book publications from PDF. Users can view flipping flash digital magazines in a simple way." Said, Kitty, CEO of the company.
More details at: http://www.emagazinecreator.com/flipbook-creator-pro/
Martin Chhoda, a loyal user of the company's products, said, "There are several ways to make a flip book, but this software is the best digital magazine creator I have found. The interface is simple and clear. It is the method I like best and that works well with me. What attracts me most is its social network function. I can share my ideas with my friends by some clicks of mouse."
Kitty commented, "PDF to Flash Magazine Pro is especially suitable for editors, publishers, and other Flash lovers. It lets users quickly review the motion and timing in an animation. It captures an image of a viewport for each frame and then plays the images as an animation. This is must faster than actually rendering the animation. We believe we can bring more surprise and convenience to our customers."
About eMagazineCreator
eMagazineCreator Inc. is an innovative software company focused on high-end rich media software development for global markets. The company has been well-known for its low-cost and handy programs for editors and publishers to easily produce professional page flipping flash books.