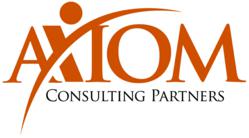 "Not all work is created equal," Sheridan said. "Every company should identify the work that is most critical to its strategy and determine its likelihood of winning against the competition.
Urbana-Champaign, IL (PRWEB) December 04, 2012
The fiscal cliff countdown and other mixed economic signals are among many reasons companies are reluctant to make hiring decisions, said Garrett Sheridan, president of Axiom Consulting Partners. Without a thorough strategic workforce planning initiative the combination of uncertainty and inaction could hurt the bottom line, undermine strategy and leave growth opportunities to competitors, he warned.
Speaking at the University of Illinois at Urbana-Champaign, Sheridan, also a co-author of Shockproof: How to Hardwire Your Business for Lasting Success, said that CEOs who base their reluctance to invest in talent on the uncertain trajectory of an economic recovery may miss key opportunities. If leaders really consider the relationship between strategy, organization capability and talent, companies could make better decisions about investing now to create incremental value, Sheridan said.
What's holding companies back from making hiring decisions to ensure they have the right number, type and quality of people to support their strategy? Sheridan points to five factors:
1. Paralysis due to a lack of clarity about the future business environment,
2. Lack of understanding about the relationship between strategy and talent,
3. Lack of understanding about the true cost of talent,
4. Lack of insight into future talent requirements,
5. Disconnected, overly engineered talent management processes developed for technocrats, not for people running the business.
Companies facing those factors often use a blunt instrument, for example "a complete hiring freeze," when what's needed is a more surgical approach to reducing investments in some areas while doubling down on the talent that really creates competitive advantage for a business, Sheridan said. Cutting too deep in a part of the business that is critical to executing the strategy can look good in the quarterly P&L but can weaken a company beyond repair. Similarly, failing to invest in talent where the returns are greatest leaves companies open to more nimble competition.
"Not all work is created equal," Sheridan said. "Every company should identify the work that is most critical to its strategy and determine its likelihood of winning against the competition. There's a reason Apple invests heavily in top product development and design talent."
He cited the case of a national beer distributor who increased sales performance by seven percent while competitors were struggling in a declining market. The distributor's management clarified a sales strategy that would improve their competitiveness and then redeployed salespeople to channels and markets where they could win market share, build brand equity and improve profitability. "The company's management wasn't willing to stand still. They looked at strategic workforce planning and deployment as a way of fueling growth during an economic slowdown," Sheridan said.
Strategic Workforce Planning
Sheridan explained that strategic workforce planning is a proven means for management to make talent decisions and direct investments where they will deliver the greatest returns.
The first step is to translate the business strategy into a series of "value drivers" – the critical capabilities and processes that are essential to success. For a wireless telecom company, for example, those drivers might be network reliability, equipment quality and the effectiveness of customer service representatives.
Next, management must identify the current and future organizational capabilities associated with the key value drivers. In the wireless case, one of those capabilities might be providing best-in-class customer service that encourages customers to extend their plans. When leaders' segment roles based on their strategic impact versus their level in the organization hierarchy the business case for well-trained and motivated representatives in customer service centers becomes self-evident.
The fourth step, determining headcount demand vs., supply, requires considering a variety of internal and external labor market dynamics. For example, Sheridan noted that over the past year manufacturers have reported real difficulty in filling positions for skilled trades and machinists.
Once the gaps have been identified, it is useful to consider their impact in the context of various economic scenarios. If customer demand is likely to spike in the near term, for example, should the manufacturer try to lure back retired employees? Or if long-term demand is more likely, is it worth recruiting and training new employees?
"A disciplined approach to identifying talent gaps and implementing a strategy to address those gaps will give management a fact base to feel confident about hiring decisions," Sheridan said. Across the board hiring freezes simply put, rarely make sense, Instead companies should consider reallocation of limited dollars from non-core roles to those that make a difference. There's no guarantee that economic uncertainty will ease, but that doesn't mean companies have to sit on the sidelines and wait for the next shock."
About Axiom Consulting Partners
Axiom Consulting Partners works side-by-side with leaders to deliver pragmatic solutions that drive results. Our services help clients clarify strategy, focus on the highest priority sources of value and align their capabilities, processes and people to deliver sustainable, profitable growth. We always look at a client's challenges through the lenses of business strategy, organization design and talent management – it's why they choose us over firms that operate in just one of these disciplines.
Learn more at http://www.axiomcp.com.