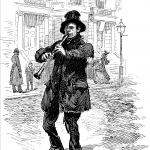 "Beautiful Bad Girl can be compared in many ways to the bestselling novel, Fifty Shades of Grey. Only with Vicki Morgan, the story is true .
Los Angeles, CA (PRWEB) December 04, 2012
Minstrel's Alley author, Gordon Basichis, was interviewed recently for television series that will address the torrid love affair between department store scion, Alfred Bloomingdale, and his longtime mistress, Vicki Morgan. The TV special is being produced by Optimen Productions for one of its newer television series.
Gordon Basichis is the author of Beautiful Bad Girl, the Vicki Morgan Story, a biographical novel that chronicles the tempestuous love affair that made international headlines while defining exotic sexual mores among the rich and famous, during the eighties.
"It is perfect timing to revisit this story," said M.J. Hammond, Publisher of independent media group, Minstrel's Alley. "Beautiful Bad Girl can be compared in many ways to the bestselling novel, Fifty Shades of Grey. Only with Vicki Morgan, the story is true. It is wild ride depicting the sexual demons of the rich and powerful. It has been a bestseller for Minstrel's Alley. It's been more than two decades since the book was first published, and it just keeps on selling.
"It is fascinating to see how society has changed its perspective on kinky sex in recent years," said Hammond. Optimen requested the interview with Basichis because they wanted to understand Vicki Morgan's point of view.
"Bloomingdale and Morgan were an international scandal when their story first broke," said Hammond. "People condemned exotic sexual behavior, like Bondage, Discipline, and Sadomasochism. But times have changed and more people are fascinated by exotic sex. Women today fantasize about being involved in their own adventures with BDSM. Young women, especially, want to imagine what it feels like to live the remarkable life of Vicki Morgan."
The publisher described Morgan as a small town teenage tomboy who got in over her head with rich and powerful people. She was a girl of modest origins. Bloomingdale was a wealthy socialite, a business magnate, and a member of Ronald Reagan's Kitchen Cabinet. Reagan's cabinet was an exclusive coterie of influential California businessmen, responsible for first getting their friend elected Governor of California and, later, President of the United States.
Gordon Basichis knew Vicki Morgan and became close friends with her during the nine month period when he was researching the book. He was the only person she told her entire story, before she was brutally murdered.
"As Gordon describes in Beautiful Bad Girl, Vicki and Alfred truly loved each other," said Hammond. "It was a tragically obsessive love and its romantic gamesmanship was so intense and yet so destructive it ripped up the landscape in eighties society. Ultimately, it killed them both.
The television program is scheduled to air in early summer.
Background: Minstrel's Alley is a Los Angeles based independent publisher that seeks to bring adventure back into the publishing industry by publishing books that have popular appeal but with more complexity than the standard mainstream fare. The publisher distributes its books through Amazon, Kindle, and assorted Internet outlets as well as through bookstores around the country. You can view Minstrel's Alley at http://www.minstrelsalley.com