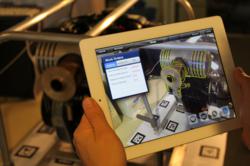 With the new NGRAIN augmented reality experience, we are not only deploying our unique 3D graphics engine in new ways, but empowering people to deliver real results
Orlando, FL (PRWEB) December 03, 2012
NGRAIN®, the leading provider of interactive 3D simulation software and solutions for maintenance training and support, today unveiled its new augmented reality capability. This new capability enables maintainers to perform tasks viewing a piece of live equipment through the "window" of an Apple® tablet that displays 2D/3D graphical overlays, video and text augmentations.
"We cannot rest on yesterday's accomplishments. Innovation will always drive us to challenge the status quo as we strive to transform the way people share knowledge. With the new NGRAIN augmented reality experience, we are not only deploying our unique 3D graphics engine in new ways, but empowering people to deliver real results," says Andrew Woo, Chief Technology Officer, NGRAIN.
NGRAIN's innovation removes a number of technical barriers associated with augmented reality by enhancing realism, increasing scalability, and accelerating content development and re-use. At I/ITSEC 2012, visitors to the NGRAIN booth (#1581) will play the role of a maintainer who uses augmented reality to perform inspection and complete a maintenance task on a piece of real equipment. The technology can be used to give maintainers immediate access to system parts information, repair history, and critical system functions, such as fluid flows. They can also receive guidance about remove and install procedures through animations and interactive task steps.
The interactive experience in the augmented reality application is based on NGRAIN's volume graphics technology, which uses voxels to store and represent both the geometry of complex systems and any number of associated equipment attributes. NGRAIN voxel technology is unique in its ability to enable the user to visualize dynamic 3D annotations over a live model in real time. Unlike surface graphics – the method most commonly used in movies, games, and virtual worlds – voxels contain volume: voxel models have both a surface and a core, and each voxel can contain virtually unlimited attributes.
NGRAIN technology is uniquely well-positioned to solve a number of technical challenges typically associated with augmented reality. For instance, NGRAIN supports the:

Real-time display of multiple dynamic attributes, such as temperature or hot-spots the maintainer should avoid
Selective rendering of attributes based on user context
Rapid registration and correlation of real equipment and parts
The capturing of notes and annotations together with other 3D model information
At I/ITSEC, NGRAIN is also demonstrating NGRAIN Constructor™, a Software Development Kit that forms the basis for the augmented reality experience. Constructor enables developers to create interactive visualization and simulation applications based on NGRAIN technology. Already in use by a number of companies spanning the Aerospace and Defense, Mining, and 3D Imaging industries, Constructor can be leveraged for a broad range of applications, including intelligence gathering, mission rehearsal, medical diagnostics, and emergency preparedness.
Constructor, which will be released to the market in the first part of next year, is based on NGRAIN's 3D volumetric data structure and highly optimized graphics rendering engine. The Constructor SDK provides access to the infrastructure that facilitates management and manipulation of multiple dynamic attributes and scene content with full support for 64-bit and multi-core computing environments. To learn more about the NGRAIN technology difference, download this whitepaper.
About NGRAIN
NGRAIN® is the creator of interactive 3D simulation technology, software, and solutions that have set the standard for technical training and operational support, providing the most true-to-life, virtual hands-on experience. Offering both a development platform and custom solutions, NGRAIN is focused on solving business problems while delivering value. Transforming the way people share knowledge, NGRAIN is in use by organizations worldwide. http://www.ngrain.com
For additional information, please contact:
Sarah Grant, Public Relations Manager, NGRAIN
(438) 257-1290
sgrant (at) ngrain (dot) com
http://www.twitter.com/ngrain
http://www.facebook.com/ngraincorp
http://www.youtube.com/ngrain3d