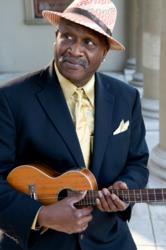 "The one thing I've always demanded of the records I've made is that they be danceable," he says.
Napa, CA (PRWEB) December 03, 2012
Composer, multi-instrumentalist and vocalist Taj Mahal is one of the most prominent and influential figures in late 20th century blues and roots music. Though his career began more than four decades ago with American blues, he has broadened his artistic scope over the years to include music representing virtually every corner of the world – west Africa, the Caribbean, Latin America, Europe, the Hawaiian islands and so much more. What ties it all together is his insatiable interest in musical discovery. Over the years, his passion and curiosity have led him around the world, and the resulting global perspective is reflected in his music today
Taj Mahal joined the Heads Up International label in the fall of 2008 with the worldwide release of Maestro. This twelve-track set – his first U.S. release in five years – marks the fortieth anniversary of Taj's rich and varied recording career by mixing original material, chestnuts borrowed from vintage sources and newcomers alike. This anniversary gala includes performances by Ben Harper, Jack Johnson, Angelique Kidjo, Los Lobos, Ziggy Marley and others – many of whom have been directly influenced by Taj's music and guidance.
"The one thing I've always demanded of the records I've made is that they be danceable," he says. "This record is danceable, it's listenable, it has lots of different rhythms, it's accessible, it's all right in front of you. It's a lot of fun, and it represents where I am at this particular moment in my life. This record is just the beginning of another chapter, one that's going to be open to more music and more ideas. Even at the end of forty years, in many ways my music is just getting started."
Tickets for Taj Mahal (solo) plus Chris & Lorin Rowan are $37/47 They are on sale now and can be purchased through the theatre website at http://www.uptowntheatrenapa.com, at Ticketmaster (http://www.ticketmaster.com) or at the theatre box office (please call 707.259.0123 ext. 6 for hours). To find out more, please visit http://www.uptowntheatrenapa.com.
The Uptown Theatre Napa is downtown's ultimate destination for live concerts. Nestled in the famed West End district, this stunningly restored art deco masterpiece showcases only the finest acts, featuring music, comedy and more. An historic landmark, the Uptown offers a phenomenal, intimate live show experience, with excellent site lines and world class sound and lighting. As concert venues go, this is the place to be. Every seat is a great seat so buy concert tickets now!