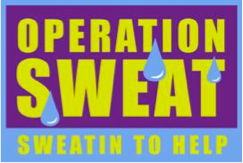 New York, NY (PRWEB) December 03, 2012
Celebrity Fitness Trainer Larysa DiDio and Reebok Sports Club/NY have teamed up to host OPERATION SWEAT, an event to raise money for All Hands Volunteers, a non-profit organization that provides hands-on assistance to communities around the world affected by natural disasters. On December 9th, from noon to 5pm, celebrity fitness experts will teach seven, one-hour classes and one two-hour spin class. One-hundred percent of the proceeds will go to those affected by Hurricane Sandy. Celebrity instructors include yoga expert Hilaria Baldwin, Pilates guru Kristin McGee, sculpt expert Kira Stokes, choreographer Ken Topping, martial arts expert Pat Consing, and fitness trainer Larysa DiDio. Participants are asked to donate a minimum of $50 per class.
Sponsors include SELF Magazine, The Katz Institute for Women's Health, and SpaFinder Wellness. Influential blog network, The Moms will sponsor Larysa's fitness class, which will focus on mothers helping mothers in need.
"As a mom and celebrity fitness expert, I want to help the families in my community and around the world." said Larysa DiDio, Fitness trainer, and co-host of Operation Sweat. "All Hands Volunteers is an incredible organization, and I'm grateful to them and the team of celebrity fitness experts who I'm working with to raise funds for communities right here in New York who've been significantly impacted by Sandy."
"We are thrilled to partner with OPERATION SWEAT on this project," said Tonya Jacobs Regional Director of Operations, Reebok Sports Club/NY and Sports Club/LA. "As with many New York businesses, our Clubs worked hard during Hurricane Sandy to provide a safe, warm place for our staff, our Members and their family and friends displaced during this difficult time. It was incredible to witness the difference something as simple as a great workout amongst friends and the community of Members during this difficult time. We are grateful for the opportunity to continue helping those still in need."
Each participant will a gift bag filled with fitness products.
"Giving back while you get fit feels good inside and out," said SELF Editor-in-Chief Lucy Danziger. "SELF is encouraging our audience of 14 million to support Operation Sweat – by joining these top trainers in person, or by donating and doing their own exercise wherever they are."
"I'm so excited to be part of such a powerful team of fitness leaders raising money for victims of Sandy. Operation Sweat is one of the best ways I can think of to help out and work out!" said Kristin McGee, celebrity Pilates expert.
"All Hands is delighted that Larysa has joined the ranks of more than 7,000 volunteers who have worked up a sweat to help communities in need around the world," said Cheryl Lewis, communications manager for All Hands. "We feel privileged to have the support of so many fine individuals and organizations as we work to improve lives affected by disaster."
Those interested in participating or making a donation can do so at http://www.OperationSweat.eventbrite.com.
Operation Sweat/page 2
About Larysa DiDio
Larysa DiDio is a celebrity fitness expert based out of NYC with over 20 years of experience. She is the co-author of "Sneaky Fitness," a fitness expert for SELF magazine, the health ambassador for Best Bones Forever and creator of The Most Awesome Race. She has been featured in over 50 national magazines and has appeared on Better TV, New York Live and Good Day NY. Larysa is known editorially as "The Makeover Queen" and has a passion for creating specialty, fitness programming to help those in need. Larysa has trained Dr. Gail Saltz, Monique Coleman, Joe Nolan, Bill Evans, Erin Sharoni, and Olympic gymnast Nastia Liukin. For more info, visit http://www.larysadidio.com<http://www.larysadidio.com
About Millennium Partners Sports Club Management LLC:
Millennium Partners Sports Club Management LLC is an operator of six premier health clubs committed to helping Members achieve their fitness goals by providing an extensive range of amenities and programs, as well as access to highly experienced fitness professionals, all within state-of-the-art facilities of unparalleled size. With locations in New York, Boston, Washington D.C., Miami, and San Francisco, the Clubs offer Members the ultimate health resource. Adding to the numerous options at Sports Club/LA locations, The Spa delivers results-oriented treatments in a way that perfectly complements every visit to the Club. The sports and fitness clubs within the company's portfolio include: Sports Club/LA complexes in Boston, Miami, San Francisco, Washington D.C. and New York's Upper East Side as well as Reebok Sports Club/NY. For more information, please visit the company's website at http://www.thesportsclubla.com.
About SELF Magazine
Reaching 14 million readers and online users, SELF informs and inspires women in areas of fitness and beauty, diet and health, style and happiness, to help them achieve their personal well-being goals, and become their vision of their best self. SELF is the founder of the Pink Ribbon for breast cancer awareness and an ASME National Magazine Award winner for excellence in journalistic achievement in print and digital. SELF is published by Condé Nast, home to some of the world's most celebrated media brands. For more information, visit http://www.Self.com and follow @SelfMagazine on Twitter, Facebook, Instagram and Pinterest.
About The Katz Institute for Women's Health
The Katz Institute for Women's Health (KIWH) is dedicated to improving all aspects of a woman's health at every stage of her life. KIWH partners with women to inform, navigate and coordinate access to wellness and prevention programs, as well as diagnostic and treatment options offered by the North Shore-LIJ Health System. By supporting and empowering women, KIWH aims to enhance the quality of life for both women and their families. For more information, go to http://www.northshorelij.com/kiwh.
KIWH is part of North Shore-LIJ Health System, the nation's third-largest, non-profit, secular healthcare system. North Shore-LIJ delivers world-class clinical care throughout the New York metropolitan area, pioneering research at The Feinstein Institute for Medical Research and a visionary approach to medical education, highlighted by the Hofstra North Shore-LIJ School of Medicine. North Shore-LIJ cares for people at every stage of life at 16 hospitals, long-term care facilities and more than 270 ambulatory care centers throughout the region. For more information, go to http://www.northshorelij.com.
Press Contact:
Jillian Taratunio
jtaratunio(at)hstrategies(dot)com
212-792-9333
Cell: 718-877-5397
###