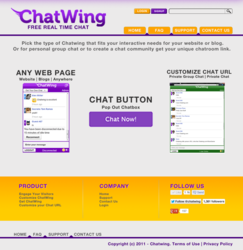 Boston, MA (PRWEB) December 03, 2012
Social media has become one of the most dynamic forces in the Internet today. It has helped businesses, organizations, and websites reach large groups of people in just few clicks. Facebook, the most famous social media platform, has millions of users worldwide, contributing to the overall relay of information in the World Wide Web. The Chatwing Development Team has operated on this fact and launched a chat widget that utilizes the power of social media. Now, social information can travel at a better rate.
In the Chatwing chatroom, visitors are allowed to log in with their Facebook accounts. Once logged in, their profile names will appear and other people will be able to send them invitations. In this simple manner, people can now expand their social networks easily. They can even join social media communities and make new friends. Twitter login is also allowed, and this option helps Twitter trends gain ground.
Chatwing's free chat widget can also be used as an online visibility tool for any website. Since it allows people to communicate directly, it can contribute to the ranking of the website. Even though there are many factors attributed to online visibility, the Chatwing tool eases up the process. By creating entertaining discussions in the Chatwing chatbox, visitors will be enticed to return on a regular basis.
The Chatwing Team understands the sheer importance of social media. The team has also observed that many users are logging in with their social media accounts, increasing the demand for the option. To ensure future stability, the Chatwing team will implement new upgrades to the free shout box. These upgrades will be accomplished in few months.
About Chatwing.com
Chatwing.com specializes in the new field of website chat. Over years, the Chatwing team has introduced live chat widget for hundreds and thousands of blogs. The Chatwing application bridges people from many parts of the world, creating global synergy through the Internet. The shout box can be installed in just seconds, and it can be used for varying purposes such as leisure and Internet marketing. It also allows a user to customize the size, color, and name of the widget. Chatwing is 100% free for everyone.