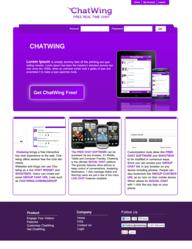 Portland, OR (PRWEB) December 07, 2012
Chatwing Dev Team has upgraded their chat widget to be highly customizable, giving users more options to personalize the chat box. The improved chat widget is easy to use, install and modify. Online marketers, avid chatters and networkers will greatly benefit from the social media features available in Chatwing chat box. Active web users can connect globally and enjoy the liberty Chatwing chat box offers to unleash their creativity through altering the chat app's look based on their preferences.
The innovative chat application allows online users to change the size, color, widget name and also add images as background. Users can use colourful backgrounds to attract more chatter and adjust the font color to complement with the background image. Chatwing chatbox is a reliable tool for global connectivity since it can accommodate up to a thousand participants. This gives people a free and ideal platform to exchange useful ideas and build strong online relationships. One of the chat app's latest improvement is the group chat which makes it flexible than other available chat widget on the web. Group chat allows a user to be selective on whom he wants to interact with. The group chat option provides a user with shortlinks which he can send to selected online buddies and start private discussions.
Web surfers can use Chatwing free chat box as a stand alone program or embed it to their websites and blogs to experience the advantages the reliable chat tool can offer. According to Chatwing research, bloggers who installed the chat widget to their sites experienced an increase in traffic and number of online friends. Chatwing's social media features allow bloggers to synchronize their blogs with their social media accounts and generate more hits. Chatwing's social media integration option makes chat-participation hassle-free for Facebook and Twitter users.
Moreover, Chatwing users can maintain a professional and wholesome discussion made possible by its word filter option that can be activated any time. The Chatwing team is dedicated to constantly improve the chat widget to keep up with the changing chat needs online.
About Chatwing.com
Chatwing.com specializes in the new field of website chat. Over years, the Chatwing team has introduced live chat widget for hundreds and thousands of blogs. The Chatwing application bridges people from many parts of the world, creating global synergy through the Internet. The shout box can be installed in just seconds, and it can be used for varying purposes such as leisure and Internet marketing. It also allows a user to customize the size, color, and name of the widget. Chatwing is 100% available for everyone.