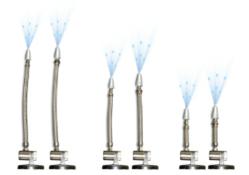 Toronto, Ontario (PRWEB) December 03, 2012
The unique Nex Flow™ Rigid Flex Hose is an all stainless steel hose that does not break after a few bends like competitive rubber hoses with simple copper inserts. It is resistant to creep and crimping. Traditional hose assemblies use rubber with a thin copper insert that can bend back and forth only a few times before metal fatigue causes breakage. The Nex Flow™ Rigid Flex Hose is designed in such a way that it can bend back and forth dozens of times without breaking! In addition, its internal design resists crimping, another common problem with traditional designs.
It's all stainless steel construction allows its use in any difficult environment.
Unlike rubber which can be subject to damage from chemicals and harsh environments, the Nex Flow™ Rigid Flex Hose will stay strong and secure in these harsh environments because of its stainless steel construction.
The Nex Flow™ Rigid Flex Hose is used to flex, direct and then hold in place air nozzles, air jets, and other blow off products from Nex Flow™ when using compressed air and may also be used with liquid spray jets. Its unique design keeps it rigid when necessary yet can be bent in any direction so that the attached nozzle or jet can be aimed at the desired target. Extremely flexible in use with all types of blow off products utilizing compressed air and even many liquids.
The Nex Flow™ Rigid Flex Hose is available in three different sizes – 6", 12" and 18" and in two configurations - 1/4" male NPT welded end connection both ends or 1/4 male NPT welded connection one end and female NPT welded connection other end. Now custom lengths and fittings and sizes are offered!
Options include a magnetic base to which the Nex Flow™ Rigid Flex Hose may be attached. This can create a flexible portable blow-off station that is easy to assemble and move where needed.
The unique Nex Flow™ Rigid Flex Hose flexibility, design and construction makes it the ideal choice for blow off use when flexibility and durability is desired.