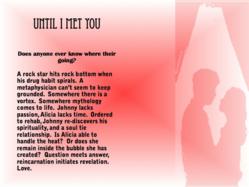 "I clair-hosted the script, that's how unreal the storyline came to me, in writing it. Something supernatural and good inspired this story." 888
LOS ANGELES, CA (PRWEB) December 03, 2012
Medicinal Cannabis Activism has been radically changing the face of state and federal legislature.
Millions of kids with ADD, Bipolarity, ADHD, and other hypersensitive disorders have been dumped from the healthcare system. Now, more than ever law systems are over-hauling legislature to allow medicinal cannabis to be used as a "natural" alternative to healing. Illegal pharmaceuticals have left devastating effects on the lives of those who have died from "over-medication".
Hollywood leads the way in pushing socially conscious material into motion picture production. When thewritealice read "Until I Met You" there was deep concern over how the public would react to a different spin on an astral love affair Isis and Osiris. One might call this the perfect marriage, especially when "reincarnation' and sci-fi become part of a mutually shared "dream" of Ancient Egypt comes to life in the most unlikely of characters.
Johnny Ringold, rock star - hits rock bottom emotionally, when his drug habit spirals into uncontrollable outbursts. He suffers from mental disorders, exhaustion, insomnia, and overcoming a rough patch in his love life. Dr. Alicia Green is a metaphysician who can't seem to keep grounded.
An eccentric free spirit, she promotes spiritual recovery and medicinal cannabis use, as a mental wellness alternative. A business she shares with her father - acclaimed psychotherapist, Dr. Ari Green, "Doc". Somewhere there is a vortex. Mythology comes to life in a shared dream. Johnny lacks passion, and Alicia lacks time.
Ordered to a most unconventional natural healing rehabilitation, Johnny re-discovers his spirituality, and a soul tie relationship. Is Alicia able to handle the heat? Or does she remain inside the bubble she has created? Question meets answer, reincarnation initiates as a Sphinx-like revelation. Love.
Read more about "Until I Met You" at http://www.thewritealice.com.