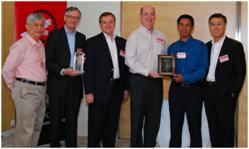 Scotts Valley, CA (PRWEB) December 03, 2012
Carsem, a leading provider of turnkey packaging and test services to the semiconductor industry, announced today that they are proud recipients of two prestigious awards from International Rectifier, namely, Vendor of the Year Award & OSAT (Outsourced Subcontractor Assembly & Test) of the Year Award. These awards are in recognition of Carsem's excellent support in service, quality, delivery & competitiveness.
During a recent ceremony held on September 19, 2012 in Singapore, International Rectifier President & CEO, Oleg Khaykin presented the Award to Peter Yates, Carsem Managing Director. Also on hand for the presentation were Tom Parrott Carsem Asia Sales General Manager and Megat Niza Sales Account Manager for International Rectifier.
Mr. Khaykin stated "Carsem is one of our key partners providing assembly and final test services for International Rectifier. Carsem's outstanding service & support were key factors in supporting IR's business last year. We will continue to maintain our outstanding partnership with Carsem as we move forward."
Mr. Yates added: "Carsem and International Rectifier have a very long relationship and it is an honor to be recognized as the top supplier. We are totally committed to strengthening our relationship with International Rectifier as they continue to grow in the marketplace", stated Peter Yates.
END
About Carsem
Carsem is a leading provider of turnkey packaging and test services to the semiconductor industry, and offers one of the widest ranges of package & test portfolios in the world. To meet the growing demands of the telecommunications and wireless markets for smaller, faster, thermally-efficient devices, Carsem's portfolio includes many advanced technologies, such as the Micro Leadframe Package (MLP), Flip Chip On Leadframe (FCOL), an SiP (System-in-Package) Technology, Cavity-Package Motion and Pressure Sensor technologies as well as stacked-die capability. Carsem also offers a full range of turnkey test services for RF, mixed-signal, linear, digital and power devices. Our factories maintain world-class quality standards having achieved SAC Level 1, ISO-9001, ISO-14001, QS-9000, TS16949 certifications, and are supported with a global network of sales and engineering support offices. Carsem is a member of the Hong Leong Group with factories located in Ipoh, Malaysia, Suzhou, China and sales offices across the USA, the UK, China, Malaysia and Taiwan. Carsem, Inc. sales headquarters is located at 269 Mt. Hermon Road, Suite 104, Scotts Valley, CA 95066, phone (831) 438-6861, fax (831) 438-6863, web site: http://www.carsem.com.