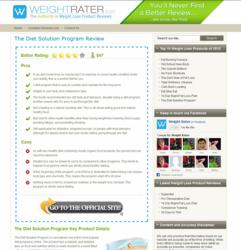 The currently visible and prevalent weight loss product review community is messy
(PRWEB) December 04, 2012
Weight Rater officially goes live to help dieters and people who are working to lose weight make the best product choice via its useful and comprehensive reviews.
According to Kurt Lao, Weight Rater's editor, their website launch allows them to reach dieters who rely on the internet for expert opinion and firsthand user experiences on the most popular weight loss products available in the market. Their well-researched and well-presented product reviews also aim to clean up the broken weight loss product review online community.
"The currently visible and prevalent weight loss product review community is messy. Most people go to Google for weight loss product reviews, especially for the rare product brands that don't receive much media exposure, but don't find credible reviews. Take for instance our Old School New Body review vs. reviews from Google's top 10 results and ask yourselves which product review helped you get a clearer picture of the product. This scenario even goes for popular weight loss products like Fat Burning Furnace and The Diet Solution Program," Lao said.
In addition, Lao mentioned that there are just too many weight loss products to choose from out there. From the effective to the absurd, from the overhyped to the hidden gems, and from the premiums to the bargains, the number of choices can easily overwhelm a typical person who simply wants to end up with the best weight loss product for his needs. Weight Rater hopes to help ease that decision making process.
The website's main focus is to streamline product review information only to those relevant to the reader's decision making process. The product reviews are intentionally kept short with only essential facts about the product put in. This allows a reader to have a clear idea about the product and make a confident decision in no more than 5 minutes of reading through the reviews.
The team behind Weight Rater also understands the importance of reviewing products from multiple perspectives by different individuals to keep personal biases out. This is done through a democratized review process, combining expert reviews from the Weight Rater team with firsthand experience from other product users via the user review form found at the bottom of each review.
To further make the decision making process easier for the readers, Weight Rater vows to keep its layout and design easy to read and free from distractions. There are no banner ads or fancy graphics that can interrupt the research process of the readers.
Pushing its thrust to serve its readers further, Weight Rater enables a feature for its visitors to request products for review. This is done through a simple form that allows the readers to provide basic information about the weight loss product that they are considering.
All of these features are provided by Weight Rater to allow its users to arrive at the best product choice to meet their weight loss goals and clean up the weight loss product review industry. Weight Rater aims to make the decision making process for its readers as easy and seamless as possible.
Weight Rater understands that obesity and losing weight is already a difficult problem. Misleading reviews on weight loss products only adds to the difficulty of a possibly life-changing decision. Weight Rater stands to do its part together with the few reliable product review resources out there.
ABOUT THE COMPANY
Weight Rater is an online weight loss product review resource that provides definitive reviews and buyer's guides of the best weight loss products available in the market. With more than a decade of combined health and weight loss industry expertise, the Weight Rater team stands as the number one venue for weight loss product reviews, user insights, and weight loss industry interaction. For more information, visit their website at http://www.weightrater.com/.