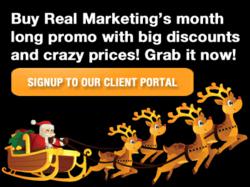 Ottawa, ON (PRWEB) December 05, 2012
Buy Real Marketing, the leading provider of web 2.0 business applications and the number one supplier of Twitter followers and YouTube views, unwraps early Christmas presents for clients who pay to get followers on Twitter or views on YouTube and many more. Only customers registered on the BRM Client Portal™ get bigger discounts and lower prices for the Holiday season.
Christmas is coming and while shops all over the world are marking down their items and giving bonus services, Buy Real Marketing is up for another season of giving in time for this much-anticipated month of December. Launching a month long promo promises massive drop in prices when BRM clients buy Twitter followers, YouTube views, SoundCloud plays and other services offered.
Take for example is the 1000 Twitter followers package offered at $17 on the website now becomes $10 on the BRM Client Portal™ and the prices get cheaper as the purchased packages get bigger. A 5000 YouTube views package offered at $15 on the website can now be availed at $10 on the portal. This price drop applies to all Buy Real Marketing social media services. All buyers must do is sign up to the BRM Client Portal™ to get these crazy prices and boost their social following tenfold but with the least expense.
This early Christmas promo will give clients more chance at affording credibility and fame at the most affordable prices of which services are guaranteed to be effective. It is not a secret that Buy Real Marketing is one of the best social media marketing companies that offer the best solutions for people who do not know how to increase YouTube views or Twitter followers and can't find the time to focus on boosting social fans or followers.
Buy Real Marketing offers a roster of social media marketing services that include Twitter followers, YouTube views, SoundCloud plays, Vimeo views, Pinterest followers and Tumblr followers. The services are offered with a 100% Money Back Guarantee and clients are met with friendly hard-at-worked customer support representatives available 24/7.
To know more about the company's services, visit their website at http://www.buyrealmarketing.com or contact them at 1-877-435-5955 (US) or 020­-3289-0222 (UK).
About
Buy Real Marketing is owned by Clicking Labs. Clicking Labs is a well-established internet marketing company founded in 2010 by Jean-Patrick Bisson, Diana Quartin and Jonathan Kennedy. The company specializes in driving search marketing and social media traffic, social web app development and conversion optimization. Each product or service specifically helps small/medium website owners increase online visibility and improve online sales.
###