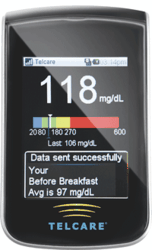 Washington, DC (PRWEB) December 03, 2012
Telcare, Inc., manufacturer of the Telcare BGM®, which is the only FDA-cleared cellular-enabled glucose meter, is pleased to announce a collaboration with Qualcomm Life, Inc., a wholly owned subsidiary of Qualcomm Technologies, Inc. The announcement coincides with the opening of the National mHealth Symposium, being held at the Washington Harbor Convention Center.
By integrating Telcare's FDA-cleared blood glucose meter and cloud server to the 2net™ Platform, members of the 2net Ecosystem will now be able to integrate real-time measurement of blood glucose levels with other physiologic parameters, such as weight and blood pressure. This collaboration will also enable Telcare BGM® users to leverage the 2net Hub in order to easily capture these additional measurements as part of the daily management of diabetes. As was previously announced, Qualcomm is also an investor in Telcare (together with Sequoia Capital of Menlo Park, CA) through its Qualcomm Life Fund.
"Telcare is thrilled to establish this collaboration as it will enable us to offer solutions to our users that aggregate biometric data from a broad array of 2net Ecosystem devices and applications helping to improve health beyond the sole measurement of blood sugar," said Jonathan C. Javitt, M.D., M.P.H., Telcare's CEO and co-founder.
Diabetes mellitus affects 32 million Americans and the Centers for Disease Control (CDC) estimates that one in three Americans born after 2000 will have the condition. Although the complications of diabetes can be prevented through daily monitoring and control of blood sugar, diabetes today accounts for one in ten healthcare dollars spent in the U.S. and results in needless strokes, heart attacks, amputations and cases of blindness.
"Qualcomm Life sees a great opportunity in collaborating with Telcare to improve the lives and health management capabilities of the over 30 million patients in the U.S. with diabetes," said Rick Valencia, vice president and general manager of Qualcomm Life. "Telcare's technology helps extend the reach of Qualcomm Life outside of the home and provides a new dimension of data to the growing 2net Ecosystem."
About Telcare, Inc.:
Telcare, Inc. uses cellular technology and social networking to bridge the last mile between patients with diabetes, their caregivers, and their families in order to transform the care of chronic illness. The Company's first product, a wireless Blood Glucose Monitoring System, was launched in February 2012. Telcare has been awarded two First Place E-Tech awards by CTIA, been named the MEDTEC startup of the year, been awarded the Triple Tree Award at the Wireless Life Sciences Alliance and been awarded the 2012 Edison Gold Award. Telcare's products have been featured in the Wall Street Journal, the New York Times, Forbes, Fox News, and numerous other media sources. The Company was founded in 2008 by David Bjork, John R. Dwyer, Jr., and Jonathan C. Javitt, M.D., M.P.H. For more information, visit http://www.telcare.com.
Telcare BGM is a registered trademark of Telcare, Inc.