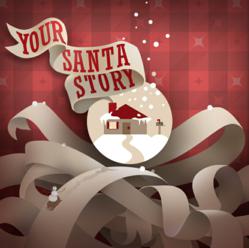 This is where I was REALLY amazed; he actually talked to my kids … calling each of my kids by their name and telling them how happy he was with their individual accomplishments.
Chicago, Illinois (PRWEB) December 04, 2012
Moms are buzzing and Your Santa Story is capturing the hearts of families nationwide to make the "Best Morning Ever … Even Better!" In partnership with OurHelix, Your Santa Story at YourSantaStory.com is the story parents want the REAL Santa to tell their children on Christmas morning through a custom video message. The personal message uses the children's own names and accomplishments, references their own pets, it speaks to Santa coming through the front door or their chimney, he compliments them on the special treats they've left out for he or the reindeer, and he finally tells them where they can find their last present. Children do believe and will continue to believe in Santa, as parents are creating an irreplaceable lifelong childhood memory with Your Santa Story.
"I'm squealing over this! It's so exciting! It's so real! It's perfect!" - Nest of Posies
"One of our boys started to loose faith … but when we watched and heard Santa, he not only lit up, but he regained his faith in Santa. Thank you for that!" - RaisingMy5Sons.com
The positive reviews are flowing in, the excitement is building at an incredible pace, Moms are telling Moms, and new traditions ARE in the making. Your Santa Story is "not" the new Elf On The Shelf or the latest Santa video. What makes it different is that there are no fake beards, no green-screens or voiceovers. It's the real Santa's message to children the way parents want the story told.
The beautiful footage of Santa's reindeer stables and his sleigh are backdrop to his personal custom DVD message, made especially for each family. With such care and attention to detail, there are only so many videos that the company can physically record between now and December 23rd, so quantities are limited and priced at $29.95 each.
"The response has been greater than we had anticipated for this magical experience and we will likely approach our maximum capacity for the season by the middle of December. So, order early", says co-founder Steve Carroll.
Your Santa Story is seeing a strong response for Military families, for children who are hard-of-hearing and for Spanish speaking families. At Your Santa Story the REAL Santa does know sign language and can speak Spanish.
OurHelix, a Chicago-based digital agency has created an easy-to-use online experience at YourSantaStory.com. Visitors will be walked through a quick and guiding form that is used to create the final script. The purchaser is able to approve the final script and Santa's message is quickly on its way. Your Santa Story is the hottest experience of this season and laying the path for many more to come. Order early to ensure Santa has time to record the message you want told to your children.
"I was amazed. First of all, this is no Mom and Pop DVD made with a handheld camcorder; this is a beautiful DVD showcasing Santa's stable and even some of the reindeer's…. This is where I was REALLY amazed; he actually talked to my kids … then went on calling each of my kids by their name and telling them how happy he was with their individual accomplishments. There was no voice-over or dubbing, this was a FULLY customized DVD, made just for my kids. I had tears in my eyes, thinking of how touching the whole thing was and how excited I was to show it to the kids on Christmas morning." - Adventuresof8.com
For more information on Your Santa Story contact:
Steve Carroll
805.908.5815
Steve(at)YourSantaStory(dot)com