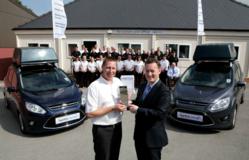 Motability Operations said... "Autochair has demonstrated rapid business growth in the last 12 months whilst keeping prices competitive and customer service to a high standard.
Derby, England (PRWEB UK) 7 December 2012
The new Olympian Hoist Brilliance Packs are available as an optional extra when buying Autochair's renowned Olympian Hoists. The Brilliance Packs come in a set of four new colours; Brilliance Blue, Passionate Pink, Radiant Red and Classic Carbon. The Brilliance Packs also include an integral LED night time illuminator, making easy use of the hoists in dark and low light conditions. These are the first and ONLY coloured wheelchair and scooter hoists available in the UK and Europe too.
When looking for a mobility aid that says something about the person you are, it has always been difficult to find products that allow individual expression. Autochair's Vehicle Adaptations innovation team came up with the idea after having a number of discussions with customers at trade shows and mobility events across the UK. They recognised that varying personalities and characteristics of people of disabilities should also be reflected in the choice of products available to them. It was this recognition that not everyone wants the same 'standard' item but they want acceptance and the ability to show that whilst they may have a disability, they also have a personality and they don't need to hide it nor their disability behind stereotypical dull coloured adaptation products. The new colours and powder-coated finishes mean that every user can choose a product that suits them.
It is this kind of product innovation and creativity in the mobility market that has led Derbyshire based adaptation company, Autochair to be recognised with a distinguished national award as Motability's Adaptation Supplier of the Year 2012 and is something that the company continues through every step of their product development programme.
Customers can consult Motability Online regarding these colourful Olympian Hoist Brilliance Packs or contact Autochair directly who will also happily provide free home-based, no obligation product demonstrations throughout the UK.
The Olympian Hoist is a premier adaptation product from Autochair, it provides those with reduced mobility quick, effortless loading of a scooter, power-chair or electric wheelchair into their own vehicle. It is now available in 100kg, 150kg, or 200kg capacity – designed and fitted to suit customer's exact requirements and can be used specifically to lift larger, wider and longer scooters, wheelchairs and power-chairs.
The Olympian Hoists are extremely versatile, easy to use and can be infinitely adjusted to suit a wide range of different vehicle makes and models. Made from lightweight aluminium, they offer a sleek and elegant design whilst providing strength and agility to lift almost any make or model of scooter, power-chair or wheelchair into the tightest of boot spaces.
Autochair's Olympian Hoists are electrically operated from the car battery and come with a variety of features including a hand-held control unit and a selection of lifting attachments for hassle-free loading - even for people with limited dexterity or strength.
The new colour Olympian Hoist Brilliance Packs are already proving an international hit through Autochair's Facebook Fans Page. Since the recent product launch, it has already been viewed by over half a million people on Facebook, many who are keen to find out where to buy one.
Recently returning from Autochair's USA Headquarters, David Crowhurst, Marketing Manager says of the Brilliance Packs launch: "In reviewing how different people use our products, it became evident to us that people purchased our products and then bespoke them in a variety of ways – sometimes re-painting them or decorating them in different ways. We could see that a significant proportion of people wanted to express themselves in their own individual way when using our wheelchair hoists. It is this sort of spirit and flair for living a positive life with a disability that we want to reflect for our customers in the mobility products we design and manufacture.
Some want to be identified as being different and highlight their disability and others simply wish to have a complementary coloured hoist that will match or contrast the colour of the vehicle it's used in. The additional functionality of the on-board night-light illuminator further enhances the usefulness of the hoists too. We are confident of the product's success, as customers are now requesting the new style Olympian Hoist Brilliance Packs in car showrooms and adaptation dealerships up and down the country.
This product launch helps Autochair ensure that our products continue to remain sought after and our end users know by our reputation as a leading UK manufacturer, that it is an affordable, high quality product and will do just the job that it was designed for – even if it's pink!"
About Autochair
Product development and innovation have always been key for the family based company which has grown internationally in recent years, expanding into European, Australian and US markets. Employee numbers at the company have increased steadily, rising to 46, much of these having been focused on product and service innovations.
Following an accident in 1975 which left founder David Walker in a wheelchair, the first 'Autochair' was born in 1979. In 2005, David relinquished his role as Managing Director for his son, Matthew Walker to take over but David still remains at the heart of the company's success.