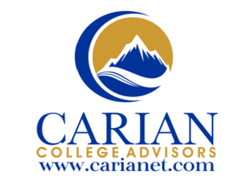 There is a major misconception...that this process can wait until a few months before graduation; while this may be true for universities located in the UAE, it is most definitely not for universities located in the USA.
Dubai, UAE (PRWEB) December 03, 2012
Current high school seniors, who will graduate this June and plan to enroll in US universities this coming fall, must act quickly in order to fulfill application requirements and meet college deadlines for admission. "UAE-based students don't understand that many of these deadlines are hard deadlines; if you miss them for any reason, your application will not be considered," says Peter Davos of Carian College Advisors. "There is a major misconception - particularly among Emirati students - that deadlines for admission are sometime in the spring and that this process can wait until a few months before graduation; while this may be true for universities located in the UAE, it is most definitely not for universities located in the USA," he adds.
For some, it is already too late to secure entry into their top choice universities or programs. The application deadline for the California State University system - which is composed of over 425,000 students and twent-three campuses - was November 30. The ten campuses of the University of California system - which include such prestigious institutions as University of California, Berkeley and University of California, Los Angeles - also stopped accepting applications after November 30. With few exceptions, students who missed this deadline must now wait another year to apply. "It's heartbreaking when students realize that, with a bit of planning and foresight, they could have had access to an entire range of schools they are now excluded from considering for another year," comments Davos; "almost the entire public university system in the state of California is no longer an option."
Many universities, such as Pennsylvania State and Ohio State, have November 30 deadlines for applications to their highly selective combined pre-medical/medical programs, Honors Colleges, and most lucrative scholarships. While students can still submit their applications for general admission to these schools, they will not be considered for entry into these advanced programs or be eligible for the university's best funded academic prizes. Other institutions, such as the University of Cincinnati, Curry College, and the University of Washington, have priority deadlines of December 1. Students who submit their completed applications before this deadline are given primary consideration in the distribution of financial aid funds and are often notified of admissions decisions months before their peers.
It's not too late, however, for most students in the UAE interested in enrolling in American universities this fall to pursue this endeavor. The vast majority of private universities have application deadlines of either January 1 or January 15, 2013. "This gives students just enough time to compile, compose, and forward their application materials - but only if they act immediately," says Davos. Students that have not yet started their applications may have to compose personal statements, secure teacher recommendations, answer supplementary questions, and forward official transcripts before the deadlines, which can be very time-consuming and demanding. Students that have not yet taken the TOEFL or SAT must do so before the end of January, in order for their scores to be considered and their applications to be complete. Many universities will also require the submission of a financial letter of good standing from their bank and bank statements showing the ability to pay for the first year of studies from international students.
Even within a single university, oftentimes separate colleges - ie the Business School, the Nursing School, the College of Arts and Sciences, and the Engineering School - may each have different deadlines for admission and students must research these, as well. Some universities have rolling admissions policies, through which they admit students well into the spring, until they fill the number of anticipated freshman seats for the coming fall, but Davos cautions against taking too much comfort in this policy. "The longer you wait to apply - even at universities that rolling admissions - the harder you have to compete for those last remaining seats and the less financial aid money will be available to you," he says; "graduating high school students either need to act quickly and make their university applications a priority now, or they can choose to wait another year."