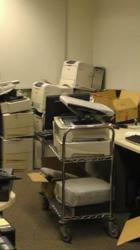 Washington, DC (PRWEB) December 03, 2012
Office Performance Partners, Inc. (OPPI), a printing systems and RFP management consulting firm, recently celebrated one year of service with a renewed commitment to helping small and mid-sized businesses reduce and control operating costs and free up internal resources for other purposes. For the past year, OPPI has accomplished this by managing printer copier contracts and network printing devices, such as desktop printers, network printers, and printer copiers, within a company's existing infrastructure.
According to Kristen Walker, OPPI's vice president of contracts and administration, the company was founded with the goal of helping clients improve company focus by serving as a knowledgeable resource and managing challenging or out-of-control functions such as printer fleet management or a RFP Management.
"Our founder spent over 10 years working for major manufacturers in the printer copier industry," Walker said. "He experienced numerous situations where companies spent far more than they needed to spend on their printing systems. Our expertise in RFP management coupled with insider knowledge of how the industry works allows us to critically evaluate proposals and contracts with the client's best interests in mind."
According to Walker, studies have shown that a company can reduce their overall expenses associated with printing by as much as 30 percent by implementing an effective outsourced managed print services strategy within their organization. Even greater cost reductions can be obtained at the time of equipment acquisition if an effective RFP process is conducted and a proactive contract management process is executed.
"Many companies are making decisions to outsource non-core business functions such as printer, RFP management, and contract management to firms like OPPI who are subject matter experts in the printing industry," Walker said. "Reducing costs remains the number one reason that organizations outsource with virtually every company citing lowering costs as a primary driver."
According to industry analysts at the Gartner Group, 80 percent of companies name cost-cutting as the main reason for outsourcing. The Outsourcing Institute reports similar results. Other reasons why companies outsource include: improving company focus, gaining access to world-class capabilities, and freeing resources for other purposes.
"We're proud of the consulting services, RFP management, and managed print services we offer, and even prouder of the level of service our team provides," Walker said. Walker explained that the company's full-cycle outsourced print management service serves as an example of the OPPI difference.
With the ever changing landscape of the industry, OPPI's founding goals remain stronger than ever. Mergers and acquisitions between manufacturers have taken place, negatively impacting the choices clients have regarding service providers, printer copier leasing options, and new equipment purchases.
"OPPI manages the entire process for our clients, starting with an in-depth analysis of the company's existing environment," she said. "We look at the big picture. If we can save the client money by leveraging newer technologies or processes, we'll recommend a solution that will deliver a solid return on investment. If the existing systems and processes are up to the task or upgrading the system is not financially beneficial, we will advise our clients of this fact."
Walker had this to say about OPPI's recent anniversary, "With our first year of providing services under our belt, we reflected on what drove us to found the company in the first place and that was to provide the best printing system consulting and managed services possible to small and medium-sized businesses. By looking back, we are confident that our focus on unbiased service is in the best interest of our clients and our business."
About Office Performance Partners, Inc.
Office Performance Partners, Inc. is committed to delivering effective managed support services solutions, local support, and personal service and becoming a trusted partner for each client's success. OPPI offers comprehensive consulting, managed print services, office equipment, copier leasing, and RFP management solutions to cost-conscious businesses. Whether a client is concerned about making smarter purchases or overwhelmed by the entire RFP or contract management process, OPPI's solutions are tailor-made to address those concerns and help the business save money, time, and frustration.