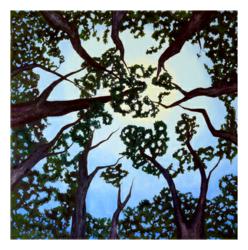 I think of building a company as an art project, I call it performance entrepreneurship
New York, NY (PRWEB) December 04, 2012
What does the emerging online gallery trend have in common with dog food? One woman. Evermore Pet Food owner and painter Hanna Mandelbaum met fellow bootstrapping entrepreneurs, Aarting.com founders Todd and Melissa Wahnish by chance. The business owners felt an instant affinity and decided to partner for an online sale of Hanna's art to help get through "dog days" of start-up mode.
Evermore Pet Food first made headlines in 2011, when company owners Hanna Mandelbaum and Alison Wiener launched their innovative Evermore Me campaign. The two subsisted on their human-grade dog food for an entire month and streamed their lunches online, attracting the attention of many media outlets including CNN and The New York Times. Kathy Lee even ate Evermore on the Today Show.
Aarting is equally poised to make a splash in the exploding online gallery trend. It is a unique social platform for viewing and buying artwork. Aarting creates the virtual experience of gallery hopping, complete with the opportunity to meet the artist and converse with other show-goers.
The show, entitled "Dog Days' End" will officially open Saturday, December 8th and run until Saturday, December 15th . Virtual attendance is simple. Visitors simply go to aarting.com and log in with their Facebook accounts. Works will be priced between $1,000 and $10,000, with proceeds being used to fund Evermore's growth. Visitors who wish to support the company on a smaller scale will be able to purchase Evermore necklaces for $12. The works in this show span nearly a decade, but were mostly created during her time as a dog walker in Brooklyn. In her large oil paintings, Hanna contemplates the themes of journey, solitude, and escape. On the connection between her company and her creative endeavors Hanna muses, "I think of building a company as an art project, I call it performance entrepreneurship."
About Hanna Mandelbaum – In addition to being the co-founder of Evermore Pet Food, Inc., Hanna is a painter and emerging aerial performance artist. She maintained a studio in Red Hook from 2004 until October of 2012 and has recently relocated to Astoria. A selection of her art is viewable at hannajanepaints.com
About Aarting - Aarting is a real-time gallery hopping experience focused on showcasing and selling the work of emerging artists. Founded by husband and wife team, Todd and Melissa Wahnish, the site launched in private beta this October. As artists themselves, their goal is to solve the age old problem of the starving artist by helping others build a life around what they create. Peruse shows and purchase work from emerging artists at aarting.com
About Evermore Pet Food, Inc.- Evermore Pet Food, Inc. an independent, company that makes hearty food for dogs. Evermore's two founders, Hanna Mandelbaum and Alison Wiener, believe that we should feed our pets the way we should feed ourselves. Since 2009, they have been dedicated to providing dogs with healthy and delicious meals that use fresh, human-grade, whole-food ingredients cooked in a USDA kitchen. Learn more at evermorepetfood.com