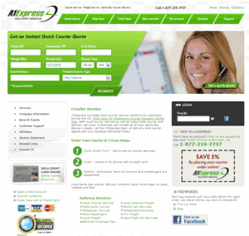 Atlanta, GA (PRWEB) December 04, 2012
A-1 Express, a leading courier of same-day delivery services throughout the US, announces launching of their new website redesign. The new website has been created to modernize their web presence, providing customers with a fresh, new look for the company. A-1 Express strives to exceed expectations and advance with professional business marketing within the courier industry.
The leading courier is going into the new year with an upgraded, modern look for their current website. The new website redesign can be found at http://www.a1express.com. The home page and the overall appearance have been upgraded. The A-1 Express quick quote on the home page is much larger than in the previous design, making for easier use and view for its' customers. The new design also has picture-slide elements for a lively and friendly appearance.
Their previous website was predominately dark green and black. The new redesign is a light green, with more white space. Their website continues to be user-friendly. Their redesign focus was to denote speed, attractiveness and appeal. Speed is how A-1 Express has branded itself as a premier courier for on-time deliveries and utilizing courier technology for efficient same-day solutions.
With the increase in online business and e-commerce, it is vital to stay abreast of modern e-marketing, even in the courier industry. A-1 Express has hopes their new web redesign promotes customer loyalty and attracts new clients in the years to come.
A-1 Express is a recognized leader in transportation and distribution services in the courier industry. For over 9 years, the same-day courier has been devoted to providing its' clients with on-time deliveries and superior courier logistic solutions. With their focus on customer satisfaction and leading courier technology, A-1 Express successfully services over 1,500 clients, including Fortune 500 companies nationwide.