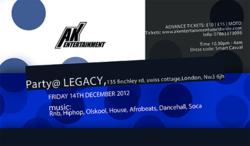 Ak Entertainment party on Friday 14th december at Legacy, Swiss Cottage London. A party not to be missed.
London,London (PRWEB UK) 5 December 2012
Ak Entertainment party will be taking place on Friday 14th December at Legacy nightclub, Swiss Cottage London, Nw3 6jh. Friday nightclubs London. The party will feature excellent Dj's and a great vibe. The music style is R'n'B, Hip Hop, Olskool, House, Afrobeats, Dancehall and Soca. The venue has a beautiful interior and a great atmosphere. This event is been put together by a team of music event promoters who have been throwing one of the best music events over the last 10 years.
Ak Entertainment is a global entertainment brand operating as record label and live music tour company. The company started off as a promotions company promoting and marketing nightclubs and party events in London (predominantly West and Central London). Ak Entertainment had risen from becoming one of the biggest promoters in London to now a global entertainment brand operating as a record label and live music tour company. Current locations are in Europe and USA with headquarters in London and New York.
The live music department of the company deals with live music tours for both upcoming and established artists. This department also organises special parties and album release parties for artists. The record label department of the company deals with coordinating production, manufacture, distribution, marketing, promotion, and enforcement of copyright for sound recordings and music videos. Also Talent scouting and development of new artists takes place under the company.
Ak entertainment will be releasing its first artist in January 2013.The first Artist to be released under the label is a USA Hip Hop based Artist who will be taking the Hip Hop world by storm. The second Artist is based artist in the UK. More information on the Artists will be released soon.
Ak Entertainment will also be presenting music shows in February 2013 in Atlanta, Georgia, Miami, Florida and Newyork. The event will be hosted by various artists and will be covering the music genres such as R'n'B, Hip Hop, olskool, house, afrobeats, dancehall and soca. The shows will be televised on TV stations and aired on National radio stations.
Ak Entertainment was founded by Akin Coker an experienced music event/party promoter who had developed skills in promoting party events back in junior high around the mid 90's.He is currently the CEO of Ak Entertainment Worldwide.