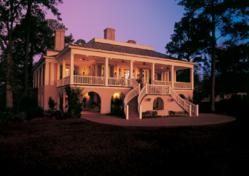 "We've assembled a strong team of builders who have presented an incredible collection of plans designed to complement Oldfield's natural beauty. We're also now able to offer homes at prices more than 50% lower."
Bluffton, SC (PRWEB) December 04, 2012
Oldfield's Pre-designed Home Program offers homebuyers the opportunity to select from a variety of home styles including a selection of golf, river and wooded home-sites, with combined home and home-site prices ranging from the $400's to more than $1million. Oldfield preferred builders have collaborated with their architects to select home plans that best accommodate specific home-sites, and plans have been through the initial planning process with Oldfield's Architectural Review Board. This program is advantageous to buyers as it accelerates the design and construction timeline and reduces many of the homebuyer anxieties often associated with the preliminary phase of the building process. Because the homes are not yet built, homebuyers will have the opportunity to make custom selections and additions.
"We're excited to launch this new Pre-designed Home Program and feel that our homebuyers will benefit greatly from it," says TI Oldfield developer Will Stolz. "We've assembled a strong team of builders who have presented an incredible collection of plans designed to complement Oldfield's natural beauty. We're also now able to offer these home buying opportunities at Oldfield at prices more than 50% less than when the community opened. This value pricing is an additional incentive to purchase now."
All of the builders in the Pre-designed Home Program bring extensive experience to the community, having constructed homes at Oldfield and in many surrounding Lowcountry communities. Oldfield's Pre-designed Home Program builders include: Boshaw Residential Custom Home Building & Renovations, Breckenridge Development Group, LLC & Breckenridge at Oldfield, H-2 Builders Inc., Marler Company, LLC, May River Custom Homes, Randy Jeffcoat Builders, Inc., Reclamation by Design, Ltd., Shoreline Construction and Development, Coastal Builders of the Lowcountry, LLC, dba Yestermorrow Coastal Builders.
Buyers in Oldfield's Pre-designed Home Program will be offered a variety of equity and non-equity club memberships and will enjoy access to all of the community's amenities and programs, including The Golf Club, The Outfitter's Center, The Sports Club, The Equestrian Center and dining and special events facilities at The River Club.
Known for authentic lowcountry living enhanced by a variety of luxury amenities designed to suit a sporting lifestyle, Oldfield boasts exquisite landscapes and home-sites with riverfront and tidal marsh views, wildlife preserves, lakes, ponds and woodlands. Its 18-hole, Greg Norman designed golf course has been named a Certified Audubon Cooperative Sanctuary and is recognized for its ecologically sound land management and its conservation of natural resources. Oldfield was carefully designed to preserve the natural beauty of its land while creating a close-knit community, defined by its custom-crafted homes and distinctive lowcountry architectural style, its dedicated Club staff and its family of residents who appreciate Oldfield's graceful style of living.
Oldfield is conveniently located on SC 170, 4 miles north of Hwy 278 – minutes from Bluffton and historic Beaufort and within 30 minutes of Hilton Head, and Savannah and the Savannah/Hilton Head International Airport.
Oldfield is being developed by TI Oldfield Development, LLC, led by Atlanta-based residential real estate veterans Will Stolz and Jeff Freeman, along with participating partners Mark Eisenbeis and Phillip Galbreath.
Exclusive onsite sales and marketing is being handled by The Marketing Directors, LLC. The Oldfield Real Estate Sales office is located at 10 Oldfield Way, Okatie, SC 29909, and sales office hours are Monday-Friday, 10 to 6, Saturday, 10 to 5 and Sunday, 12 to 5. For immediate information, please call (843) 379-2500, or visit http://www.oldfield1732.com and follow us on Facebook.