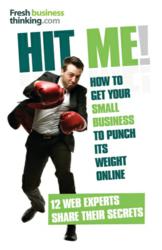 It'll tell you about creating the right type of page for your business; examples of engaging communications plans, how to grow and establish rapport with your audience and of course, how to measure your success
Alton, Hampshire (PRWEB UK) 4 December 2012
A new business book, Hit Me! that offers advice to small businesses to punch above their weight online has been published by Fresh Business Thinking who has bought together the leading experts in the field of internet marketing, including SEO expert and founder of Hampshire-based search agency, theMediaFlow.
Nichola has contributed a chapter to the book sharing ideas, information, tips and advice on how businesses can use Facebook to their advantage. With 845 million users, Facebook has become an increasingly useful tool for business, and it's important to have a strong presence on the social network.
Whether your brand is fully established or just starting out, Nichola proves that marketing on Facebook doesn't have to be a timely or expensive process. There are several small and simple things that all businesses can do for their brand on Facebook.
"This chapter is all about the Facebook platform which I have written to be used as a marketer's tool when practicing social media marketing. It'll tell you about creating the right type of page for your business; examples of engaging communications plans, how to grow and establish rapport with your audience and of course, how to measure your success," said Stott.
Francesca James, from publishers, Fresh Business Thinking, said: "Our book is a must for businesses looking to supercharge their internet marketing. Nichola's chapter is worth its weight in gold for anyone who wants to use Facebook in a big way to practice social media marketing. 5 stars!"
You can purchase a copy of Hit Me! directly from publishers' Harriman House.