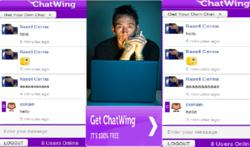 Cambridge, MA (PRWEB) December 04, 2012
Chatwing.com has recently announced the launching of its newest chat software. The earlier versions of the Chatwing app has gathered positive reviews from different blogging communities and the developers have decided to expand in other online sectors. In Chatwing's newest chatroom, customization options were expanded along with some useful admin functions. The Chatwing team has focused on the improvement of website chat and overall user experience.
Chatwing's premier chatbox can handle thousands of users at any point of time. This capability can grant a significant edge to website owners, especially those who want to create a mark in their niches. The Chatwing chatroom also empowers real-time communication so that visitors and website owners can communicate effectively without wasting time. Many online entrepreneurs have started using the Chatwing chatroom as a customer service or inquiry tool.
Chatwing app's selection of colors was expanded greatly—now, web users can mix and match colors in order to find the right combination. Chatwing's developers have emphasized this color combination option so that users can now have more preferences in designing their free chat widget. The new admin functions included are word filter parameters, a simple ban system, unlimited moderator setup, and social media login selection. Currently, the Chatwing admin can set up Facebook and Twitter login options.
By launching this free chat box to new online sectors, Chatwing.com has opened up new doors to the premise of global communication. With the Chatwing tool, web users can now send and receive information in the shortest time possible. Apart from that, they can now engage in lively online conversations.
About Chatwing.com
Chatwing.com specializes in the new field of website chat. Over years, the Chatwing team has introduced live chat widget for hundreds and thousands of blogs. The Chatwing application bridges people from many parts of the world, creating global synergy through the Internet. The shout box can be installed in just seconds, and it can be used for varying purposes such as leisure and Internet marketing. It also allows a user to customize the size, color, and name of the widget. Chatwing is 100% free for everyone.