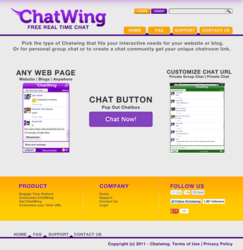 Cambridge, MA (PRWEB) December 04, 2012
Online businesses are now moving to a new paradigm because of the changes in the World Wide Web. These changes, based on many observations, are caused by the arrival of new niches and online strategies. Chatwing, a company adept in creating website chatrooms, realized the change in the online arena. With this, the company has introduced a multi-functional chat widget capable of improved global connectivity and user access.
The latest free chat box offered by Chatwing is focused on high-level customization. Unlike before, web users can now edit the colors and sizes separately. This allows users to create color combinations so that the widget can fit efficiently with their websites. Online entrepreneurs can rely on the Chatwing chatroom to gather leads for their businesses. Once the chatroom is properly optimized, the visitors will tend to return to the website, contributing to its overall website visibility.
Admin functions are also emphasized in the latest chatbox. With these admin functions, users can set word parameters and an efficient banning system. Banning visitors can now be done in few simple clicks. For advanced ban, the Chatwing admin can block Facebook and Twitter usernames. Chatwing also allows the admin to leave a special message that can state the reason of the ban. The Chatwing app is also mobile-friendly, so online entrepreneurs can access it while they are travelling.
Chatwing's elite developers are always looking forward to a better website chat premise. With this goal, more users can now have a new website chat experience. Chatwing's free chatbox can also fulfil various online purposes, such as web marketing, spreading advocacies, social media expansion, and information relay.
About Chatwing.com
Chatwing.com specializes in the new field of website chat. Over years, the Chatwing team has introduced live chat widget for hundreds and thousands of blogs. The Chatwing application bridges people from many parts of the world, creating global synergy through the Internet. The shout box can be installed in just seconds, and it can be used for varying purposes such as leisure and Internet marketing. It also allows a user to customize the size, color, and name of the widget. Chatwing is 100% free for everyone.