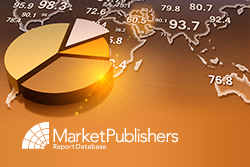 London, UK (PRWEB) December 03, 2012
Spurred by rising healthcare costs and medicine prices, high pharmaceutical expenditures, the global biosimilars market has witnessed considerable growth over the past several years. At present, the worldwide market for biosimilars is valued at nearly USD 1.99 billion. In 2013, it is likely to exceed USD 2.68 billion and continue growing to reach approximately USD 19.3 by end-2018.
There are 25 top manufacturers of biosimilars each having 5-10 years of experience. The rapidly growing biosimilars market is predicted to attract new participants during the following decade. So, to stay competitive, market leaders design new products in attempt to attract new customers and satisfy their changing requirements.
New research report "Global Biosimilars Market - Products, Applications and Regulations" created by Industry Experts has been recently published by Market Publishers Ltd.
Report Details:
Title: Global Biosimilars Market - Products, Applications and Regulations
Published: November, 2012
Pages: 354
Price: US$ 4,320.00
http://marketpublishers.com/report/biotechnology/biosimilars/global-biosimilars-market-products-applications-n-regulations.html
The report examines the global biosimilars market in detail and describes its current state. It reviews the market by product type, offers a snapshot of biosimilars' applications and includes profiles of 43 key global market players. The research also provides information on the main market and business trends and discussed the regulatory landscape. In addition, future opportunities for the world biosimilars market are described in the report.
Report Contents:
PART A: GLOBAL MARKET PERSPECTIVE
1. INTRODUCTION
1.1 mAbs - All The Rage In Biosimilars' New Wave
1.2 The Buildup to the Biosimilar Industry
1.3 Current Players: A Sneak Preview
1.3.1 Celltrion
1.3.2 Gedeon Richter
1.3.3 Biocon
1.4 The Big Pharma Industry: Not One to be Left Out
1.4.1 Baxter-Momenta
1.4.2 Merck Serono-Dr. Reddy's Laboratories
1.4.3 Daiichi Sankyo-Coherus Biosciences
1.4.4 Amgen-Watson
1.4.5 Samsung Biologics-Biogen Idec
1.5 On the Flip Side
1.6 The Winner Takes It All
1.7 Product Outline
1.7.1 What are Biosimilars?
1.7.2 The Process of Approval
1.7.3 Backdrop
1.7.4 The Biologics Price Competition and Innovation Act
1.7.4.1 Data Exclusivity
1.7.5 Biosimilars by Product Type
1.7.5.1 Monoclonal Antibodies
1.7.5.1.1 Production Process
1.7.5.2 Erythropoietin
1.7.5.2.1 Functions of EPO
1.7.5.2.2 Mechanism of Action
1.7.5.2.3 Synthesis and Regulation
1.7.5.2.4 Uses in Medicine
1.7.5.3 Human Growth Hormone
1.7.5.3.1 Recombinant Human Growth Hormone
1.7.5.3.2 Managing Growth Disorders Using Recombinant Human Growth Hormone Biosimilars
1.7.5.4 Insulin
1.7.5.4.1 Biosimilar Insulin
1.7.5.4.2 The Complexity in Producing Biosimilar Insulin
1.7.5.4.3 Biosimilars and the Regulatory Environment Surrounding Them
1.7.5.4.4 The Market for Insulin Biosimilars
1.7.5.5 Granulocyte Colony-Stimulating Factor
1.7.5.5.1 Biological Function
1.7.5.5.2 Genetics
1.7.5.5.3 Use in Therapeutics
1.7.5.6 Interferons
1.7.5.6.1 Interferon Categorization
1.7.5.6.2 Functions of Interferons
1.7.5.6.3 Interferon Alfa
1.7.5.6.4 Interferon Beta-1a
1.7.5.6.5 Interferon Gamma
1.7.5.7 Other Biosimilars
2. BIOSIMILAR APPLICATIONS – A SNAPSHOT
2.1 Blood Disorders
2.2 Chronic and Autoimmune Diseases
2.3 Growth Hormone Deficiency
2.3.1 Growth Hormone Deficiency in Children
2.4 Oncology
2.4.1 Biosimilars in Oncology and Hematology
2.4.2 Biosimilar G-CSF
3. REGULATORY LANDSCAPE
3.1 The United States Food and Drug Administration
3.2 European Medicines Agency
3.3 Other Developments on the Biosimilar Front
3.3.1 The World Health Organization
3.3.2 Canada
3.3.3 Japan
3.3.4 Latin America
3.3.4.1 Argentina
3.3.4.2 Brazil
3.3.4.3 Mexico
3.3.5 India
4. KEY MARKET TRENDS
Biosimilars Growth to be Driven by Emerging Markets over the Next Decade
Asia Poised to Manufacturing Hub for Biosimilars
Biosimilars: Present Perspectives and Future Implications
Key Considerations for Biosimilars Development and Commercialization in the US
The FDA Guidelines
An Assessment of the Current and Future Trends Of Biosimilars in the United States and India
Biosimilars: Some Quick Facts
The United States Market for Biosimilars
The Indian Market for Biosimilars
Biosimilars could Drive-Down the Cost of Cancer Treatment
FDA Draft Guidance Triggers Evaluation of IP Protection
Biosimilar Therapeutics Showing 'Similarity'
Key Issues in Biosimilars Commercialization
Biosimilars in the US: Regulation, Strategies, and Impact
Oncologists Urged to Consider Biosimilars as Cost-Effective Treatment Options
Biosimilars Development: Opportunities and Challenges
Key Biosimilar Developments During 2011
Biosimilars Business Blooming in India
Prospects
Indian Initiatives…
Roadblocks Remain
Opportunities for Biosimilars in Emerging Markets
5. KEY GLOBAL PLAYERS
3SBio Inc
Actavis Group HF.
Agilent Technologies, Inc.
Amgen, Inc.
Astrazeneca Plc
Baxter International Inc.
Biocon Ltd.
Biogen IDEC
Bioton S.A.
Boehringer Ingelheim GmbH
Cadila Healthcare Limited
Cangene Corp.
Celltrion, Inc.
Cipla Ltd.
Daiichi Sankyo Company Limited
Dong-A Pharmaceutical Co., Ltd
Dr. Reddy's Laboratories Ltd.
DSM Biologics
GE Healthcare Ltd.
Glaxosmithkline, Plc
Hospira, Inc.
iBio, Inc.
LG Life Sciences
Lonza Group Ltd
Medice Arzneimittel Pьtter GmbH & Co KG
Merck & Co., Inc.
Merck KGaA
Mitsubishi Tanabe Pharma Corporation
Mylan Inc.
Novartis AG
Perkinelmer, Inc.
Pfizer Inc
Ranbaxy Laboratories Ltd.
Reliance Life Sciences Pvt Ltd
Roche Holding AG
Samsung Biologics Co Ltd
Sandoz International GmbH
Sanofi
Shantha Biotechnics Ltd
Stada Arzneimittel AG
Teva Pharmaceutical Industries Ltd.
Watson Pharmaceuticals, Inc.
Wockhardt Limited
6. KEY BUSINESS TRENDS
ProCognia to expand biosimilar collaboration with UniTargeting Research
Oncobiologics, Boston Oncology to Commercialize Biosimilar Therapies in MENA region
Innovent Biologics Engages Pharmatech Associates for Designing Biosimilars Facility in China
Sandoz Initiates Phase-III Trial for Epoetin Alfa
AET BioTech, BioXpress Therapeutics Sign Deal for Cancer mAb
Reliance Life Sciences Starts Biosimilar Infliximab Trial in India
Fujifilm Kyowa Kirin Biologics to Develop Bevacizumab Biosimilar
Roche's Rituxan Biosimilar Copies in Market By 2015
Asian Biotech Companies to Pioneer Biosimilars for Renal Failure
Dr Reddy's Negotiating for Europe Reditux debut
FDA approves Teva Cancer Treatment Biosimilar
FDA Approves Teva's Tbo-filgrastim Version
iBio and GE Healthcare Announce Global Alliance
Synthon Strikes Deal for Developing Herceptin Biosimilar
Stakeholder Groups Urging FDA to Exempt Plasma Protein Therapy from Biosimilar Pathway
Ranbaxy to Commercialize Three Biosimilars by 2015
Korean FDA Approves Celltrion's First Monoclonal Antibody
Biocon Announces Positive Results for Biosimilar Insulin Glargine Phase I Trial
Dr Reddy's to Collaborate with Merck Serono on Biosimilars
India Announces New Regulations for Biosimilars
Abbott Challenging Provision in Federal Biosimilar Law
...
More new market research reports by the publisher can be found at Industry Experts page.