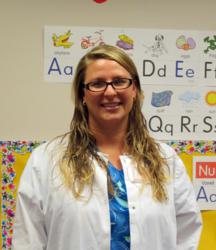 Stuart, FL (PRWEB) December 05, 2012
Shanna Beard, a student at Indian River State College (IRSC), just completed 75-hours of work required by her Community/Public Health Nursing class at Martin County PPEC, a Medical Day Care Center for medically fragile, complex children in Stuart, Florida.
"I chose Martin County PPEC after talking to another student in my class," said Beard. "She mentioned the facility, I looked them up online and decided that it would be a great experience for me to work there. I have never worked with children before, so I thought this would be a great place to get my feet wet."
Since October 2012, Shanna worked one 12-hour shift per week at Martin County PPEC. The unpaid position was very similar to an internship. She worked in a pediatric nursing capacity giving fragile medical children their medications per doctor's orders, performing daily head-to-toe assessments on all the children, taking vital signs, and consulting with physicians regarding the status of their client. In addition, Beard helped with enteral feeding, which is delivery of nutrients directly into the stomach through a tube, and she helped with the nutritional feeding of infants and toddlers with special diets as per doctor's orders. Additional pediatric nursing care included exercising the infants and toddlers as per physical therapist and occupational therapist demonstrated, playing games with all the children, reading books to all the children, and, on occasion, changing diapers.
Beard, a Registered Nurse and an Emergency Medical Technician (EMT), is in the process of earning of her Bachelor of Science in Nursing (BSN) at Indian River State College. She will complete her last semester in the spring for her nursing degree. After receiving the BSN, Beard is contemplating attending school for Masters in Nursing.
When asked what she will miss most from her time at Martin County PPEC, Beard said, "The children. They are so precious!"
About Martin County PPEC: Martin County Prescribed Pediatric Extended Care (PPEC) is a medical day care for special needs children, newborn to 20 years of age, with complex and fragile medical, developmental and technology dependent needs serving Martin and St. Lucie Counties. The pediatric nurses, physical therapist, speech therapist, and respiratory therapist provide specialized care for exceptional children to ensure each child's optimal health and well-being in a fun, caring and educational environment.
Martin County PPEC is located at 310 SW Ocean Boulevard, Stuart, FL 34994. For more information, contact Martin County PPEC at 772.288.6466 or visit them online at http://www.MartinCountyPPEC.com.