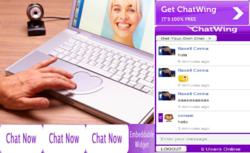 Dallas, TX (PRWEB) December 06, 2012
Chatwing.com is now ready to scale up its standards by launching a reliable chat widget in the social gaming community. Chatwing's developers have recently observed that many social games are appearing day by day. These social games often have hundreds and thousands of players and subscribers. Along with the launch of the widget, Chatwing.com has readily offered some important tips that can improve a player's social gaming experience.
New friends, new connections
The basic foundation of a social game is people. Based on the observation of Chatwing.com, those gamers who have lots of friends tend to advance quickly in the game. These players have more resources to spend, and they can unlock new items that can improve their gaming style. Chatwing's free chat box can be used as a tool to expand social network. In the chatroom, visitors can send out game invitations to each other.
Pooled strategies for everyone
The benefits of a conjoined network are endless, according to Chatwing.com. Social gamers can use Chatwing's efficient chatbox to gather new strategies that can improve their games. Most social games require diligence and a well-planned strategy; the Chatwing chatroom can be a source of those strategies because of the visitors. If the Chatwing chatroom is embedded to a social gaming website, the website owner can then share new gaming tips.
Beyond the game
Chatwing's free chat widget can foster relationships. Because of its versatile level of global communication, people can now communicate in a deeper level. Website owners can understand visitors well. Social gamers, on the other hand, can make real-time friends and arrange meet-ups in the feature. This will even be beneficial if the social game is popular. To cope with more users, Chatwing.com will implement new upgrades in the coming months.
About Chatwing.com
Chatwing.com specializes in the new field of website chat. Over years, the Chatwing team has introduced live chat widget for hundreds and thousands of blogs. The Chatwing application bridges people from many parts of the world, creating global synergy through the Internet. The shout box can be installed in just seconds, and it can be used for varying purposes such as leisure and Internet marketing. It also allows a user to customize the size, color, and name of the widget. Chatwing is 100% free for everyone.