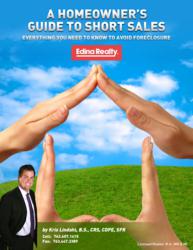 People are using technology to find the information they are looking for so I have spent months creating websites, short sale eBooks, and short sale videos
Blaine, MN (PRWEB) December 04, 2012
"In order to help as many people as I possibly can I've assembled an experienced short sale team to help with all of the calls and emails I get every day," explains Kris Lindahl, an experienced agent. The Kris Lindahl short sale team includes hard working full-time Edina Realty Realtors that hold designations like Certified Distressed Property Experts (CDPE), Short Sale and Foreclosure Resources (SFR), and Council of Residential Specialists (CRS). The Kris Lindahl Team specializes in working with general residential real estate, first-time home buyers, and distressed property sales.
"I get calls from all over the country," Kris Lindahl explains. "So I am doing everything I can to help people as much as I can. The Minnesota Short Sale Calculator allows people to check their short sale eligibility and, in doing so, potentially help to prevent foreclosure," Kris Lindahl, the #1 Edina Realty short sale Agent, adds.
"People are using technology to find the information they are looking for so I have spent months creating websites, short sale eBooks, and short sale videos so it would be easy for people to get the information they need to determine if the short sale process is a viable option," the experienced agent Kris Lindahl explains.
The eBook that the experienced agent Kris Lindahl published is available for complimentary download at HomeOwnersGuideToShortSales.com. The book is titled "A Homeowner's Guide To Short Sales" and is full of important information.
Kris Lindahl continues to explain, "The real estate market has changed so much over the past few years that people must find current information and answers to their questions. Real estate transactions are just not done like they used to be."
Call the experienced short sale agent Kris Lindahl and the experienced Kris Lindahl Short Sale Team at (763) 447-3925 for short sale information. Visit the new national Short Sale Calculator website or the Minnesota Short Sale Calculator website to determine short sale eligibility.