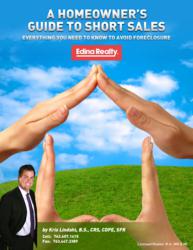 I've spent months creating online resources that will help get as much information out to as many people as possible. My latest online resource is a short sale eBook
Blaine, MN (PRWEB) December 04, 2012
"I take a lot of calls and emails every day that ask me about the short sale process," says Kris Lindahl, and continues, "For this reason I've spent months creating online resources that will help get as much information out to as many people as possible. My latest online resource is a short sale eBook." The eBook, which is available for complimentary download, is titled "A Homeowner's Guide To Short Sales."
Kris Lindahl says, "Banks in the short sale process will want to see a hardship letter where the homeowner describes their hardship and why they are requesting a short sale for their home. Money is the biggest issue throughout the short sale process, and everyone wonders with each short sale step if there is going to be a cost to doing a short sale. Over and above the hardship letter banks require a number of additional forms prior to approving a short sale proposal. All those requirements beg the question of, is there a cost to doing a short sale?"
"The short sale documents are typically documents like financial records," Kris Lindahl explains, and continues, "Documents that deal with the purchaser of the house are also necessary documents. If there is no buyer for the home that is going through a short sale then there can be no short sale. Documents like the listing agreement for the house, a contract for the sale of the home, and written evidence of the buyer's financial ability to buy the house, are the documents that lenders also want to see."
"The person that is trained to assemble the people and all of the records together is known as the short sale agent. A short sale agent can also fully address concerns over whether there is a cost to doing a short sale," Kris Lindahl, the experienced agent, says.
Call the experienced Short Sale Agent Kris Lindahl at (763) 447-3925 for short sale information. Check out the video series on the short sale process here. Download the short sale eBook titled "A Homeowner's Guide To Short Sales" that Kris Lindahl is publishing. Visit the Minnesota Short Sale Calculator website to determine short sale eligibility.