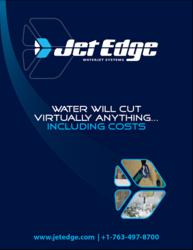 Jet Edge offers the widest range of waterjet pumps in the industry.
St. Michael, Minnesota (PRWEB) December 05, 2012
Waterjet systems manufacturer Jet Edge, Inc. recently released a new international brochure highlighting its precision waterjet cutting and mobile waterjetting products. The brochure is currently available in English and German, with additional languages coming soon.
The brochure features Jet Edge's precision water jet cutting systems and waterjet pumps as well as its mobile waterjet cutting systems and ultra-high pressure surface preparation equipment. It also highlights Jet Edge's 28-year history in the waterjet industry, and includes several proud moments in the company's history when Jet Edge equipment came to the rescue during high-profile crises, including the Gulf of Mexico oil spill, the Kobe earthquakes and the Kuwait oil fires.
Jet Edge manufactures a wide range of precision waterjet cutting systems in sizes up to 9m x 30.5m. The St. Michael, Minnesota, U.S.A.-based waterjet manufacturer also offers the widest range of waterjet pumps in the industry, including 2500, 4100 and 6200 bar models, electric and diesel, from 22-209kw, intensifier and direct-drive. Jet Edge's mobile waterjetting products include linear and pipe cutters and waterjetting lances. Jet Edge waterjets have been sold worldwide since 1984.
To request a free brochure, e-mail sales(at)jetedge.com, call +1-763-497-8700 or download a PDF at http://www.jetedge.com.
International Distributors Sought
Jet Edge is seeking international distributors for select markets with experience in the machine tool industry. To request more information, please contact Jet Edge International Sales Manager David J. Anderson at +1-763-497-8700 or sales(at)jetedge.com.
About Jet Edge
Established in 1984, Jet Edge is a global designer and manufacturer of waterjet systems for precision cutting, surface preparation and coating removal. Jet Edge systems are used around the world in a broad range of industries, from the world's leading airlines to automotive, aerospace, industrial manufacturers, machine and job shops. Jet Edge waterjet systems are proudly made in the U.S.A. For more information about Jet Edge, visit http://www.jetedge.com, e-mail sales@jetedge.com or call +1-763-497-8700. Follow us on Twitter @jetedge.