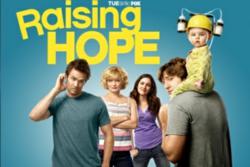 We are excited at the opportunity to showcase our trike and recumbent trikes in general, however large or small the part to a much larger audience."
Kentwood, MI (PRWEB) December 04, 2012
TerraTrike has announced that one of their trike models will be featured on the hit FOX show – RAISING HOPE.
"We are not sure exactly how the trike will be featured as they are pretty guarded about details until it's aired," says Marketing Director Jeff Yonker "But we as we understand it there is a scene revolving around a neighborhood watch with them using our Rover Tandem model."
Entering its third season, Raising Hope is the critically acclaimed comedy from Emmy Award winner Greg Garcia ("My Name is Earl") that follows the continuing comic adventures of the Chance family as they raise an adorable toddler named HOPE. It stars Martha Plimpton and Garret Dillahunt and airs Tuesday nights on FOX at 8:00pm.
The episode titled "Squeak Means Squeak", is scheduled to air December 4th and was facilitated through TerraTrike dealer "Richards Cyclery" in Garden Grove.
"Richard's has helped us in the past with other Hollywood opportunities." states Yonker, "It's great having someone in the area that can do this for us and we are excited at the opportunity to showcase our trike and recumbent trikes in general, however large or small the part to a much larger audience."
For additional information on WizWheelz or TerraTrikes, contact Jeff Yonker, Marketing Director, at (800) 945-9910 or visit http://www.TerraTrike.com.
ABOUT WIZWHEELZ INC. - WizWheelz Inc. is headquartered in Kentwood, Michigan and is the largest manufacturers of recumbent trikes in the world. The TerraTrike brand has been manufactured for over 16 years and they maintain one of the industry's most extensive sales and support systems, with over 130 distributors and dealers in multiple countries. Product and distributor information is available on the TerraTrike website at http://www.TerraTrike.com, or by calling (616) 455-5988 or 1-800-945-9910.