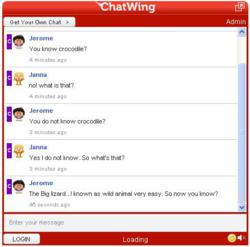 Portland, OR (PRWEB) December 18, 2012
The niche of alternative healing has resurfaced nowadays, based on the thousands of websites created for this sole purpose. Across the world, people are looking for alternative healing solutions because they are inexpensive and can go for roots of illnesses. Due to the fast-paced rise of the alternative healing niche, Chatwing.com introduced a website chat widget that focuses on better global communication.
The chatbox can be installed to any alternative healing website. Once installed, it can be a tool for enhanced communication. Visitors of the website can now post important inquiries, as well as links to their own websites. The company's developers have also observed that visitors of alternative healing websites tend to share holistic recipes and detoxification guides.
Web users can freely select the overall appearance of Chatwing's free chat widget. They can also add background images to make their websites' appearance more convincing. Users from alternative healing niche have used herbal medicines and peaceful events as their background images. According to the experts of the niche, such images are effective, along with some peaceful choice of colors.
Chatwing.com and its developers ensure that more platform developments will come in weeks or months. These developments are focused on speed, platform efficiency, and long-term solution for technical glitches. These will also make the chat box highly reliable and useful in different niches.
About Chatwing.com
Chatwing.com specializes in the new field of website chat. Over years, the team has introduced live chat widget for hundreds and thousands of blogs. The chatroom application bridges people from many parts of the world, creating global synergy through the Internet. The shout box can be installed in just seconds, and it can be used for varying purposes such as leisure and Internet marketing. It also allows a user to customize the size, color, and name of the widget. The chatroom tool is 100% free for everyone.