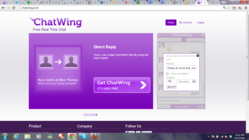 Seattle, WA (PRWEB) December 06, 2012
Educational websites have been in the World Wide Web for many years already. In a common note, these website often discuss the paradigms of education, as well as the advancements in global teaching. Today, education is taking a major step with the help of the Internet. To show clear support for global education, Chatwing.com introduces a versatile chat widget that can be installed to educational websites.
Teachers can use the Chatwing chatbox to send important links to their lectures. Alternatively, the teachers can use the Chatwing app as an inquiry tool. Now, he can answer the questions of his students in real-time. Chatwing.com has focused on the development of real-time communication in the platform. The developers understand that information must travel fast in every website, forum, or blog.
Students can benefit from the Chatwing chat box in terms of information and research. Commonly, students tend to have personal websites. Upon installing the Chatwing chatroom, they can now ask homework help from visitors. They can even ask data about any research or project that they are taking. Students can freely modify the appearance of the shoutbox; the default color is purple, but they can select from different colors to match the theme of their websites.
Chatwing's advancement to the field of communication is one of the company's prominent steps in the online arena. With Chatwing's free chat widget, online information can travel fast, allowing teachers and students to reach their goals efficiently.
About Chatwing.com
Chatwing.com specializes in the new field of website chat. Over years, the Chatwing team has introduced live chat widget for hundreds and thousands of blogs. The Chatwing application bridges people from many parts of the world, creating global synergy through the Internet. The shout box can be installed in just seconds, and it can be used for varying purposes such as leisure and Internet marketing. It also allows a user to customize the size, color, and name of the widget. Chatwing is 100% free for everyone.