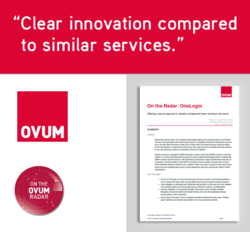 San Francisco, CA (PRWEB) December 06, 2012
OneLogin, the innovator in identity management, today announced that leading industry analyst firm Ovum profiled OneLogin in a coveted "On the Radar" Research Note for identity management. OneLogin was recognized as an innovator "offering a secure approach to identity management while working in the cloud."
On the Radar reports highlight up-­and-coming vendors that bring innovative ideas, products, or business models to their markets and bear watching for their impact on markets. According to the Ovum report, "OneLogin has built an extensive range of in-the­-cloud identity management facilities. Its enterprise-level services are fast to deploy, and can scale to support millions of users, including complex directory infrastructures. Core facilities provided include single sign-on, user provisioning, strong authentication, mobile access to web applications, reporting services, directory integration, and federated search facilities."
"This is important validation coming from a respected organization like Ovum," noted OneLogin chief executive officer Thomas Pedersen. "We work hard to offer products that help make organizations more secure and simplify how people get work done in the cloud, so to be recognized by Ovum as one to watch in the identity management space is extremely gratifying."
Highlights of the Ovum report – "Why Put OneLogin on Your Radar?":
· OneLogin SSO facilities overcome the need for separate authentication. Users who are already signed in to the Windows network don't need to re-authenticate when accessing cloud-based services. Through its support for the security assertion markup language (SAML), WS­- Federation, and OpenID authentication standards, OneLogin SSO offers single­-click access to cloud applications. VPN integration is also supported.
· Strong, multi­-factor authentication is supported, including mobile authentication and out­-of­-band (OoB) mobile facilities. Integration with authentication products from RSA, SafeNet, Symantec, VASCO, and Yubico are available. There is also a one­time-password (OTP) facility for OneLogin Mobile, which supports the iPhone, Android, and BlackBerry platforms, and will soon be available for Windows mobile.
· Mobile access from OneLogin for iPad provides support for a wide range of web applications. Its services are based on SAML and SAML SSO integration with native mobile applications.
· Directory Integration with mainstream AD and LDAP is a key strength of the OneLogin solution. It offers a range of integration services such as directory management, real-time user synchronization, AD-driven user provisioning, and delegated authentication.
Also from the Ovum report: "The important requirement when considering working with a specialist supplier of identity in the cloud services is to make sure that the selected vendor has the technical expertise to work with existing IAM infrastructure providers, their systems, and their source directories. The vendor has to take full responsibility for the seamless integration of access to cloud-­based services. OneLogin takes this responsibility."
The complete Ovum On the Radar report is available at http://www.onelogin.com/ovum-on-the-radar-report-on-onelogin/.
Relevant Links:
● To learn more about OneLogin's Single Sign-On offering, visit here (http://www.onelogin.com/product/single-sign-on/)
● To learn more about OneLogin Directory Integration, visit here (http://www.onelogin.com/product/directory-integration/)
● To learn more about the industry's first Federated Cloud Search application, visit here (http://www.onelogin.com/product/federated-cloud-search/)
About OneLogin
OneLogin is the innovator in enterprise identity management and provides the industry's most comprehensive solution for managing user identities, both in the cloud and behind the firewall. Unique capabilities like Cloud Search and OneLogin for iPad break down SaaS data silos and increase productivity. OneLogin's cloud identity platform comes complete with secure single sign-on for web, mobile and iPad, federated search, user provisioning, deep directory integration with real-time user sync, out-of-band multi-factor authentication, VPN integration and compliance reporting. OneLogin's catalog contains thousands of pre-integrated applications, including Asure Software, Coupa, Box, Clarizen, DocuSign, Egnyte, EchoSign, Google Apps, Innotas, LotusLive, NetSuite, Microsoft Office 365, Oracle CRM On-Demand, Parature, Salesforce.com, SuccessFactors, WebEx, Workday, Yammer, ServiceNow, Zscaler and Zendesk. OneLogin, Inc. is backed by Charles River Ventures. Free Trial Available at: http://www.onelogin.com | Twitter: @onelogin.