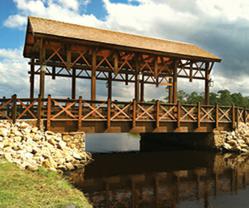 They will see all the parts of the park, but they will always remember it from the covered bridge entry to the park.
Palm Coast, FL (PRWEB) December 20, 2012
Princess Place Bridge Construction Video
In early October, a dedication ceremony for the bridge over Styles Creek, at Princess Place Preserve, took place. This timber covered vehicular bridge was built for Flagler County as the grand entrance to this historical preserve. In fact, it is the only way in and the only way out of the originally known "Cherokee Grove." This 1100-acre preserve was acquired in 1887 by Henry Cutting, a noble yachtsman from the northeast. Henry made the land a retreat by adding a hunting lodge (designed by William Wright), coquina rock-based stables and even one of the first orange groves in Florida.
The name "Princess Place" originated from Cutting's widow who married an exiled Russian Prince after Henry's death. The couple decided to make "Cherokee Grove" their homestead so they appropriately renamed it "Princess Place." Long after their passing and after a few more owners, Princess Place became dedicated as a preserve in 1994 with aid from the State of Florida, the River Water Management District and Flagler County. Today, the preserve welcomes students, nature lovers, equine enthusiasts and many other visitors.
The construction of this single-lane, landmark bridge began in May 2012 and was completed in September 2012. Parties involved included: the Department of Transportation, the Federal Highway Administration, the Board of County Commissioners of Flagler County (Florida), S.E. Cline Construction, Inc. and York Bridge Concepts, Inc.™
With design references from figures like William Wright (who constructed the hunting lodge), as well as the architectural elements of the park itself, YBC was given a challenge to build a timber covered bridge reminiscent of the past, that would last for generations to come. Barbara Revels, Chair of the Flagler County Commission, stated, "We contracted with YBC to design and build this bridge to match the historic elements of our county park. This is a grand gateway entrance to the park and the architecture detailing and design is very similar to some of the other features of the park. I think that it will create a memory for a lot of people who come here. They will see all the parts of the park, but they will always remember it from the covered bridge entry to the park." — That's the thing about covered bridges; they always leave a lasting impression.
Read about the design of this bridge here.
Follow YBC's daily work posts: http://www.facebook.com/yorkbridgeconcepts
About York Bridge Concepts
York Bridge Concepts, Inc. (YBC) is the nation's largest on-site timber vehicular bridge builder. YBC works with industry-leading owners and developers on prestigious projects throughout the U.S. and Internationally, creating more than just a solution for crossing lakes, streams, creeks, wetlands or ravines. In this competitive real estate market, developers who want to ensure that their project stands apart from the competition use York Bridges to add value and create a feeling of exclusivity, warmth, and quality for their customers. Based in Lutz, Florida, with 28 years of experience, YBC has become well-known for their expertise and cutting-edge innovation in timber bridge design and on-site construction.
For more information, please visit YBC's website: http://www.ybc.com.