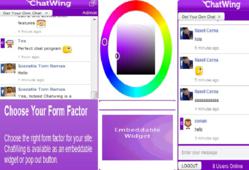 Seattle, WA (PRWEB) December 06, 2012
Chatwing Development Team has advanced to the adult chat community by creating a website chat widget that is capable of global communication. This recent application from Chatwing can be installed to any website and ensures bouts of traffic within a specific time. Adult visitors can also connect with each other through Chatwing app's social media integration.
Adult love chat website owners can rely on the Chatwing chatbox when it comes to global connectivity. The average Chatwing chatroom can handle up to 1000 users in real-time, raising the potential of communication. Adults can now engage in lively discussions with everyone and they can even make new relationships. Chatwing shoutbox also grants significant edge to adult website owners when it comes to wide-scale customization.
Chatwing's free chat widget offers different color choices for the adult website owner. The default color style is purple, but the owner can select different tinges to stir up the mood of the visitors. As an added bonus, the website owner can upload a single MP3 song link in the chatroom. Sensational and mellow songs are advisable to establish the setting of the adult chatroom.
The adult love chat niche will continue to gather thousands of users in a daily note. This is based on the need of people to connect with each other socially. Since the Chatwing chat box is all about communication, the developers will create more upgrades. With such upgrades, more users can enjoy a new chat experience.
About Chatwing.com
Chatwing.com specializes in the new field of website chat. Over years, the Chatwing team has introduced live chat widget for hundreds and thousands of blogs. The Chatwing application bridges people from many parts of the world, creating global synergy through the Internet. The shout box can be installed in just seconds, and it can be used for varying purposes such as leisure and Internet marketing. It also allows a user to customize the size, color, and name of the widget. Chatwing is 100% free for everyone.