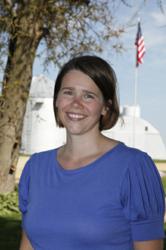 "We want the best for our children, and food is a really important part of that."
Bloomington, IL (PRWEB) December 04, 2012
Illinois farmer Katie Pratt wants her friends, neighbors and other Illinois residents to know more about how their food is grown. In fact, she's so passionate about this subject that Pratt wants to represent farmers and lead conversations nationally.
Pratt is one of nine national finalists in the "Faces of Farming and Ranching" contest from the U.S. Farmers & Ranchers Alliance (USFRA). If she's chosen, Pratt will help lead discussions about farming and food throughout the country in 2013.
Pratt has had plenty of practice. As an Illinois Farm Families farmer leader, she regularly talks with Chicago-area moms and urban families about how her family raises food on their farm.
"I think once moms talk to each other, whether it's farm moms or city moms, we soon realize we are facing the same things," says Pratt. "We want the best for our children, and food is a really important part of that. I have that unique perspective. I am able to provide some idea of how food is raised, and strike up conversations to assure them that what they are giving their children is good for them."
Vote for Pratt online at http://www.FoodDialogues.com through December 15. Votes will help determine the three to four "Faces of Farming and Ranching" winners, who will be announced in January 2013. Winners will share their stories on a national stage through media interviews, public appearances and events and advertising campaigns.
Pratt and her husband, Andy, a seventh generation farmer, raise soybeans, corn and seed corn in Lee County near Dixon, Ill. Pratt's family has a tradition of welcoming tour groups to their farm, which dates back to the early 1970s. "This is part of our family legacy. Our farm doors have always been open to people, back when I was a child and now on my own farm," Pratt says.
In addition to Pratt, the other finalists are: Chris Chin, Clarence, Mo.; Janice Wolfinger, Morristown, Ohio; Will Gilmer, Sulligent, Ala.; Bo Stone, Rowland, N.C.; Eric McClam, Columbia S.C.; Daphne Holterman, Watertown, Wis.; Brenda Kirsch, St. Paul, Ore.; and Tim Nilsen, Wilton, Calif.
Entrants span the country and raise different types of food and livestock, but all share one common theme: Farmers and ranchers sharing their passion for producing food and continuously improving what they do. "Whether you're raising corn and soybeans in Illinois or you're a dairy farmer, or you're raising hazelnuts in Oregon or cherries in Michigan, we are facing the same exact problems, issues and situations on our farms and families. Sometimes we get so boxed in on our little farms that we forget that there are other people out there who are doing what we are doing. It's such a great opportunity for us to share our story," Pratt adds.
Pratt was chosen to be a finalist by a panel of judges that included Successful Farming editorial content director David Kurns, celebrity chef Danny Boome, TV producer Lauren Lexton, and Chicago food and parenting blogger Emily Paster. "It's so important that we get out there and tell our story, but I also will counter that with that we need to listen," Pratt notes. "That's the only way we're going to have a good conversation about food in America."
If Pratt is chosen by USFRA, the Illinois Farm Families "Field Mom" program will need to share one of their best volunteers in 2013. The program gives Chicago-area moms opportunities to ask questions, meet farmers and visit Illinois farms. Non-farm women in Chicagoland who are interested in being a "Field Mom" next year can apply online at http://www.WatchUsGrow.org through mid-January.