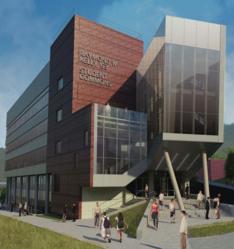 "This is an honor beyond measure, which I accept on behalf of the 50,000 uniformed and civilian members of the New York City Police Department. Police Commissioner Raymond W. Kelly
RIVERDALE, N.Y., (PRWEB) December 03, 2012
Manhattan College will celebrate the groundbreaking of the Raymond W. Kelly '63 Student Commons on Thursday, Dec. 13 at 12:30 p.m. on campus. The 70,000-square-foot building, set to open in 2014, will significantly enhance the College's ability to integrate academics and student life programming, and will provide space for fitness and wellness programming, dining, study, and cultural and community events.
"This is an honor beyond measure, which I accept on behalf of the 50,000 uniformed and civilian members of the New York City Police Department. That the student center will serve as the new 'front door' of the campus fits perfectly the Lasallian tradition of opening portals in service to the community," Police Commissioner Raymond W. Kelly said.
An approximately $48 million project, the Raymond W. Kelly '63 Student Commons will be the College's first LEED (Leadership in Energy and Environmental Design) certified building.
"The Kelly Commons will be at the heart of the campus, both geographically and figuratively," said Brennan O'Donnell, Ph.D., president of Manhattan College. "It will house our student clubs, student government offices and bookstore, and will be our front-door to the community, providing space for gatherings, meetings and events open to the public."
Earlier this year, Thomas D. O'Malley '63, former chairman of the College's board of trustees and executive chairman of PBF Energy Company LLC, contributed $10 million toward the building of the Raymond W. Kelly '63 Student Commons, which was the largest gift in Manhattan's history. Bloomberg Philanthropies, Ronald O. Perelman, chairman and chief executive officer of MacAndrews & Forbes Holdings Inc., and Kelly are also among the list of supporters of the new building.
The new Raymond W. Kelly '63 Student Commons site is located on Manhattan College Parkway in the existing Waldo Parking Lot. For more information about the building's features and to see a video rendering of the building, visit http://manhattan.edu/giving/student-commons-campaign. Renderings of the building are also available at http://flickr.com/gp/manhattancollege/3i78v2/.
Media interested in attending, please contact Liz Connolly Bauman, director of communications at Manhattan College, by phone at (718) 862-7232 or e-mail public_relations(at)manhattan(dot)edu.
About Manhattan College:
Manhattan College is located at West 242nd Street near Broadway in the Riverdale section of the Bronx, one mile from the Westchester County line and accessible by MTA subway line No. 1. For directions to the campus, visit http://www.manhattan.edu.
Founded in 1853, Manhattan College is an independent, Lasallian Catholic, coeducational institution of higher learning offering more than 40 major programs of undergraduate study in the areas of arts, business, education and health, engineering and science, along with continuing and professional studies, and a graduate division. For more information about Manhattan College, visit http://www.manhattan.edu.