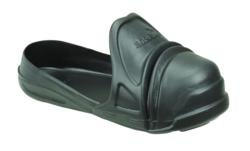 Merrill, Wis. (PRWEB) December 03, 2012
For many of us, with winter weather comes the constant worry of black ice on the driveway, slippery sidewalks and frozen steps. Since Jack Frost doesn't factor safety or convenience into his weather planning, Shoe In's Ice-Ts do. Perfect for the everyday winter elements, Shoe In Ice-Ts are lightweight overshoes that feature barium metal studs on the soles for superior traction in icy conditions.
Shoe In Ice-Ts quickly and easily slip on over boots or shoes for stability and protection from the dangerous slip and slide of winter weather. They have no left or right foot distinction and the hands-free design means no bending over or sitting down to put them on or take them off. Patented gripper fingers ensure that they stay in place securely without marring your shoes. They are made of durable EVA rubber that will hold up against even the harshest winter conditions, and rinse off easily for quick cleaning.
Shoe In Ice-Ts are the ideal winter companion for outdoors lovers, senior citizens, dog owners or anyone looking for a safe and easy solution to the snow, slush and ice that plague your daily winter outings. Shoe In Ice-Ts fit over most boots and are available in four sizes – small, medium, large and extra large.
Shoe In overshoes are available from a number of national online retailers, including Gardener's Supply, Grainger and Cabela's, and various retailers in a wide variety of local markets. For more information about Shoe In, please visit http://www.weinbrennerusa.com.
###
About Shoe In
The Shoe In by The Weinbrenner Shoe Company is a patented, EVA, ultra lightweight slip-on overshoe that is designed with one mission: to keep clean floors clean. Shoe In overshoes can be worn indoors to prevent dirty shoes from soiling the floor, or outdoors to keep shoes clean. They come in a variety of configurations, including Open Toe, Closed Toe, Safety Toe with a steel toe and the Ice-T featuring studs for traction on snow and ice. The patented gripper fingers on all models provide hands-free operation and require no bending over. Shoe In overshoes are easy to clean and fit over most shoes, making them ideal for a number of situations and industries where cleanliness is a priority. For more information about Shoe In, please visit http://www.weinbrennerusa.com.