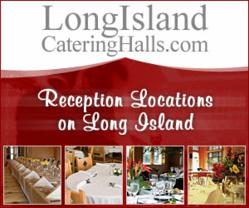 For any bride or wedding planner looking to get a jump start on organizing the perfect reception, LongIslandCateringHalls.com is a tool that cannot be passed up, and this new set of updates makes the site more valuable and useful than ever before.
Kings Park, NY (PRWEB) December 04, 2012
LongIslandCateringHalls.com, one of Long Island's top online resources for special event and wedding planning, has just updated their database to include even more listing information for party planners and brides-to-be - just in time for the upcoming Winter "Wedding Season"!
Since its launch in 2008, LongIslandCateringHalls.com has been one of the region's most trusted, turned-to resources for online party planning due to regular updates, thorough information, and useful tools. Created by the experienced team at Long Island Media (the company behind a privately owned and operated network of over 900 geo-targeted Long Island websites) LongIslandCateringHalls.com has evolved from a directory into a complete event planning resource. The site has grown to include more than just listings for local Long Island catering halls - containing information about other related services, a comparison tool, reviews by locals, and informative articles and insights about planning Long Island events ranging from elegant affairs to small family gatherings. Whether a bride-to-be is looking for the perfect Long Island banquet hall for her wedding reception or a business is looking to organize a catered, high-class corporate gala, LongIslandCateringHalls.com has the comprehensive information about local venues, caterers, and service providers to suit every occasion and need.
Long Island is home to a wide array of event venues, from historic estates and grand ballrooms, to country clubs with scenic natural settings. With so many locations to choose from, LongIslandCateringHalls.com is a vital tool when planning parties and gatherings of any size. The site goes beyond basic venue listings by offering Long Islanders the opportunity to read reviews, advice and professional insights about hosting an unforgettable event, and picking the perfect place to host it. LongIslandCateringHalls.com makes it simple and efficient to find all the event services necessary to throw the party of the year, and the updates to the vendor details and photos ensures that site-goers are staying a step ahead with the latest information.
For any Long Islander looking to organize a celebration or wedding, LongIslandCateringHalls.com is a vital tool for planning. It allows users to bookmark, compare, and peruse through listings for all of the premier Long Island venues, party services, and vendors - all by creating a free account. Our latest revision comes just in time for the post-Holiday winter Wedding Season, and will provide even more of the vital information that these new brides-to-be and party planners need to organize extravagant affairs easily, and efficiently.