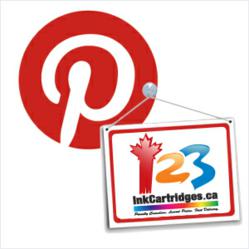 Lachine, QC (PRWEB) December 04, 2012
The Canadian company, 123inkcartridges.ca has always had the customer in mind. When they were formed the whole premise for their business was to get connected with customers and offer them the best prices on computer and printer related products while maintaining a high quality standard. With the recent increase of computer technology and many forums that can be used to connect with customers, 123inkcartridges.ca has created a Pinterest account in order to interact more freely with their online clientele.
Customers can connect with 123inkcartridges.ca on Pinterest and view their wide range of computer related products and share their favorites by pinning them. This connection allows customers to retain another important way to connect with the number one online supplier. The company's goal is to maintain a strong connection with their customer base in order to allow them to be more knowledgeable of the high quality products offered on their site.
Readers can view the 123inkcartridges.ca Pinterest page at: http://pinterest.com/123ink/. Here consumers will find a wide variety of products and product lines that they can follow and share with other users. They can choose from among their favorite or most used products to share across the web, or they can view more products of a given type. Their entrance into the Pinterest social media platform allows the business to stay more connected and in tune with their customers so that they can provide the printer and computer related items that are most requested.
About 123inkcartridges.ca
The Canadian based company began with the idea that they wanted to provide customers with the highest quality printer supplies. The company soon caught on and began to grow rapidly. They soon began expansions to include computer related accessories as well. Recently the company has attempted to continue to provide high quality products to their customers at reasonable prices. Their expansive product line can be viewed on their main site: http://www.123inkcartridges.ca.