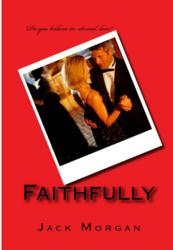 With over 50% of marriages ending in divorce, the topic of infidelity and faithfulness is definitely something everyone can relate to.
Miami / Jacksonville, FL (PRWEB) December 05, 2012
Jack Morgan has infused this romance novel, or novella, with his perceptions of the changes in American culture. From his studies of late-Victorian fiction to contemporary 20th century literature, Jack has garnered many insights into the pop culture and how it affects the individual in society. More poignantly, how it affects our decision-making in relationships.
For widower Steven Riley, dating in the 21st century was like navigating through unchartered waters. He soon learns that relationships in the New Age are swift, serious, and capricious. Therefore, rekindling an old flame, Susan Mitchell, his former high school sweetheart, seemed like a good way to cope with loneliness after his daughter, America Riley, marries then moves to another city. While Steven faces the melancholy of nostalgia, tantalized by the obsequiousness of Susan Mitchell, he finds that rekindling the golden moments with his first love comes at a cost. Haunted by the apparitions of Mercedes, his deceased wife, he must consequently choose between remaining faithful to Mercedes or to starting a new life with Susan.
There are two elements that make the release of this book particularly relevant to women readers: first, Jack's story is told from a man's point-of-view. Just like reading Cosmopolitan has helped men better understand the way women think, Jack helps women understand how a man thinks in an emotional/relationship crisis; this is mainly a unique approach since the romance writing profession is dominated by women writers. The second interesting angle is that his story is written in two contrasting settings that are uniquely rich in culture.
"Everybody's fixin' to do something" captures the essence of Jacksonville as a small town, big city. In Miami, however, the reader will get the feel of what it's like to live a hedonistic life among a predominantly Latin population. From South Beach to Coral Gables to Downtown Miami, the descriptive scenery is nothing short of sizzling. In contrast, moving to Jacksonville feels like touching down in a "football crazy" town.
About the Author: Jack Morgan began working in education in 2001 as a substitute teacher, and is a Florida certified English teacher. However, his career was also enriched with a ten year history in the real estate industry, having earned over a quarter-million dollars by owning/managing several boutique mortgage brokerage and real estate appraisal firms in Brickell and Coral Gables.
More appealing is his history as a film, television, and stage actor, beginning with his first theatrical appearance in The Rimers of Eldritch, by Lanford Wilson, cast as Josh Johnson, at the Miami Dade College Theatre (1994). Morgan (a pen name) went on to star in an independent film, The Horizon Bleeds (1996), at the ripe, young age of 21. His latest appearance was in Burn Notice (2012), as a background actor.
Video Trailer: http://www.youtube.com/watch?v=kf1tePAaHUg
Contact: For more information about Faithfully, please visit http://iwritedrama.wordpress.com or view Jack's profile both Twitter and Facebook.
You can also email: iwritedrama(at)gmail(dot)com