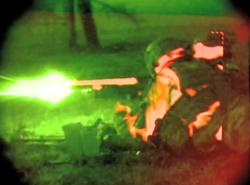 ...with the right gear, [Law Enforcement/Spec Ops] can increase their operational capabilities, situational awareness and survivability...
Laguna Hills, CA (PRWEB) December 04, 2012
Morovision Night Vision, Inc., the authorized U.S. Law Enforcement distributor and commercial tube distributor for ITT Exelis, announces the success of its 2012 Night Vision Demo Tour. The tour made stops at various Police Departments, tactical trade shows, and government agencies throughout California, Arizona, and Texas.
Showing off some of the most advanced night vision and thermal technology, Morovision piqued the interest of agencies such as LAPD, FBI, Houston Police Department, and U.S. Customs and Border Protection. Some of the featured devices that were demoed included the Night Enforcer NEPVS-14, the Dual Sensor Night Vision Goggle (DSNVG), and Exelis' new i-Aware Fusion systems. The i-Aware Fusion systems were put to the test using a helicopter fly-over, robot, and static cameras which transmitted live video into the i-Aware fusion goggles' heads up display (HUD).
"Morovision once again demonstrated its commitment to the law enforcement and special operations community by reaching out and bringing the technology to them – in their own back yard – showing that with the right gear, they can increase their operational capabilities, situational awareness and survivability," says Spiro Demetriadi, Director of Sales and Marketing at Morovision. "Merely showing up is only half the effort;" Spiro continues, "Morovision is taking things further by getting gear into the hands of specific law enforcement units to demo the gear in actual operations as well as scheduling hands-on tactical training on the proper use of this technology in tactical and/or surveillance scenarios."
The demos were held in Exelis' 18-wheeler trailer-turned-Demo Facility. Due to the success of the tour, there has been a surge in interest and demand for an East-Coast tour. Morovision is currently in the process of putting together dates and locations for next year's tour.
About Morovision Night Vision, Inc.
Morovision has provided federal, state, and local law enforcement agencies with state-of-the-art U.S. manufactured night vision equipment since 1991. Morovision is on the forefront of night vision and thermal imaging technologies and their commitment to excellence and reputation for integrity has made them an industry leader.