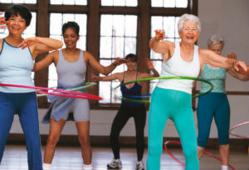 Washington, DC (PRWEB) December 06, 2012
The study conducted by National Institutes of Health (NIH) has revealed some interesting facts revealing the importance of exercise. The study concluded that moderate amount of exercise can increase the life expectancy of a person by 4 1/2 years, regardless of the weight of that person. The study was a part of larger research to evaluate various components engaged in overall cancer risk for a person.
The data was from over 650,000 people among which most were over age 40. It was found in the research that people who got a minimum of 2 1/2 hours of moderate exercise per week indicated clear signs of increase of overall life expectancy. Those who got even 1 1/4 hours of vigorous exercise showed similar benefits.
Some of the information from the NIH study which co-related between life expectancy and physical activity are:
1) National Cancer Institute study revealed that: More the exercise a person gets, more is the increase in life expectancy.
2) The U.S. Department of Health and Human Services (HHS) suggests that people should get at least 150 minutes of moderate exercise per week. The study also found that people who got even half the amount of moderate exercise per week still showed an increased life expectancy, although not so much as compared to people who did 150 minutes of moderate exercise per week.
3) Steven Moore, who was the leading researcher on the study, highlighted the fact that the benefits of exercise on a person's life expectancy held true regardless of whether or not they were overweight.
4) The enhanced effects were visible in those who were in normal weight range. The combination of moderate exercise and normal weight was found to contribute up to 7.2 years to life expectancy. So people who combine fat loss and exercise are expected to live longer.
To know more on the topic refer to http://www.reviewsgod.com/life-expectancy-and-exercise-relation