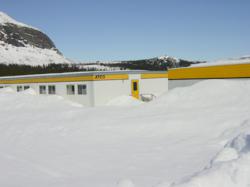 "This MOU with the Naha Dehé Dene Band is the beginning of a mutually successful partnership in areas including resource development and commercial buildings." said Harry Wilmot, President & COO, ATCO Structures & Logistics
Nahanni Butte, NWT (PRWEB) December 05, 2012
ATCO Structures & Logistics announced today that it has signed a Memorandum of Understanding (MOU) with the Naha Dehé Dene Band (NDDB) to jointly pursue resource development opportunities and commercial and industrial projects within the traditional lands of the NDDB. Nahanni Butte is located 200 km southwest of Fort Simpson, NWT.
"We look forward to working with the Naha Dehé Dene Band on several projects in their traditional territory," said Harry Wilmot, President & Chief Operating Officer, ATCO Structures & Logistics. "We are confident that this MOU is the beginning of a long and mutually successful partnership in a wide range of areas including resource development and commercial buildings."
This MOU is the initial step in the development of a business arrangement that establishes the responsibilities of the parties, the allocation and distribution of profits, education and training opportunities, and the development of management and administrative capacity within the community.
"The Naha Dehé Dene Band is very excited to enter into this partnership with ATCO and looks forward to building a strong, productive and mutually beneficial working relationship," said Chief Clayton Konisenta of the Naha Dehé Dene Band. "This partnership will help our community to benefit from the resource development opportunities on our traditional lands over the next decade."
ATCO Structures & Logistics offers modular buildings, site services and industrial noise control solutions worldwide. With manufacturing facilities in North America, South America and Australia, and operations on five continents, the company has the expertise to deliver a rapid, turnkey solution anywhere it is needed. To learn more, visit http://www.atcosl.com.
ATCO Structures & Logistics is part of the ATCO Group of Companies. ATCO Group, with more than 8,800 employees and assets of approximately $14 billion, delivers service excellence and innovative business solutions worldwide with leading companies engaged in structures & logistics (manufacturing, logistics and noise abatement), utilities (pipelines, natural gas and electricity transmission and distribution), energy (power generation, natural gas gathering, processing, storage and liquids extraction) and technologies (business systems solutions). More information can be found on http://www.atco.com.
For media inquiries or further information, please contact:
Alisa Charkova
Senior Advisor, External Communications
ATCO Structures & Logistics
Tel. +1 403 292-7769
Mob. +1 403 826-0961