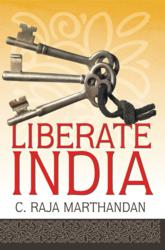 'Liberate India' is a call to build a society as great as our people and our culture deserve.
Chennai, India (PRWEB) December 04, 2012
A modern and exploding economy. A democratic society founded on liberty and equality. An increasing population and rapidly expanding incomes. In the past few decades, India has experienced a national renaissance on a scale unmatched in human history. But despite these advances, little has been done to address a long-accepted problem that threatens the recent advances of this emerging superpower. The problem, of course, is India's caste system.
In his new book Liberate India, author C. Raja Marthandan explores the social evil of India's caste system and exposes its blatant denial of the three keys aspects of human and civil rights – freedom, equality and dignity. Written in blank verse, the poetic style made famous by great writers such as John Milton, Liberate India offers insight into the gap between this society's modern democracy with supposedly equal opportunities and the harsh reality of life under the caste system.
"The caste system in India has been a horrendous and debilitating characteristic of our society for hundreds of years," says Marthandan, who offers a unique perspective as a native Indian who has successfully conquered the prejudices of the caste system himself. "Feigned ignorance can no longer be an acceptable response if India truly wishes to modernize its society and make good on its promises of liberty and equality."
This book delivers a passionate account of the social, moral and religious evils of the caste system and serves as an appeal to Indians and to a world which has long ignored this "invisible apartheid". As much an extensive history as it is a call to action, Liberate India demands the discussion that will allow this great democracy to finally reconcile with the past and move forward into the modern world.
For more information, visit http://bookstore.iuniverse.com/Products/SKU-000479410/Liberate-India.aspx.
Liberate India
By C. Raja Marthandan
ISBN: 978-1-4697-4668-5
Softcover, retail price: $27.95
Hardcover, retail price: $37.95
E-book price: $3.99
About the author
C. Raja Marthandan earned a master's degree in English from University of Madras, Chennai, India, and master's and doctoral degrees from London University (UCL). He is also an Associate of the Institute of Education, London.