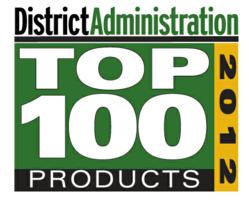 This award validates our commitment to adaptive learning and technology that engages and educates students.
Chicago, IL (PRWEB) December 03, 2012
Adaptive, online learning program Wowzers® has been selected as a 2012 District Administration Readers' Choice Top 100 Product, the magazine announced today. Wowzers was chosen from a record 1,000+ nominations this year, selected by the editors of District Administration based upon the quantity of nominations and the quality of reader descriptions. The complete list of winners has been announced online, and appears in the December issue of District Administration magazine.
The annual District Administration Readers' Choice Top 100 Products award recognizes leaders in the education industry, and provides superintendents and other senior school district leaders with the unique opportunity to learn what products their colleagues around the country are using, and how these products contribute to the success of their districts.
"We are so honored to be chosen as one of District Administration's Top 100 products of the year and to be in the company of other top learning tools chosen by experts in the education field," said Wowzers president Andrew Howard. "This award validates our commitment to adaptive learning and technology that engages and educates students."
"The record number of nominations we received this year was astonishing," says District Administration's executive editor, Odvard Egil Dyrli. "There were so many excellent recommendations from school administrators who shared how the products made significant differences in their districts, and choosing the Top 100 proved to be challenging and difficult. We are delighted to announce the honorees for 2012 and trust that the list will be a valuable resource for our readers."
About Wowzers®
Based in Chicago, Ill., Wowzers is a game-based, adaptive online learning program where story-driven games and activities replace assessments, manipulatives and textbooks. The Wowzers program, which includes math Common Core curriculum for 3rd-5th grade and supplemental curriculum for 6th-8th grade, is built on a powerful, cloud-based platform that adapts to the learning style of each student for a truly personalized and effective learning experience anywhere there is an internet-connected device. Wowzers has been recognized with the CODiE Award for Best K-12 Solution and Best Classroom Management System from the Software & Information Industry Association (SIIA), the principal trade association for the software and digital content industries. For more information on Wowzers, visit http://www.wowzers.com, find us on Facebook or reach out via Twitter at @Wowzers.
About District Administration
District Administration is the leading provider of smart management solutions for K12 administrators at school districts throughout the United States, and is the most-closely followed and most-widely read information source in the industry, bringing top-quality journalism to the unique issues, challenges and opportunities faced by K12 district executives. For more information, visit http://www.DistrictAdministration.com.