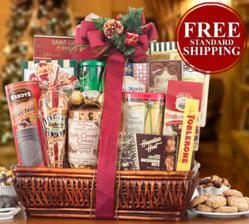 Long Beach, CA (PRWEB) December 03, 2012
From extravagant and huge to everyday gifts for all occasions, Van's Gifts is renowned for exceptional gift baskets that include fine wines and champagnes, Godiva and Lindt chocolates, meats, cheeses and other gourmet foods and candies. When visiting their user-friendly website, there is even an option to shop for baskets by price, from $29.95, to $100 and above.
Each gift basket is artfully arranged by hand in a high quality keepsake basket, trunk, tote or hamper and decorated with a custom made bow. Van's Gifts' taste team selects only the best varietals from the wine country regions, ranging from Napa Valley to the hills of Tuscany to the rustic vineyards of Chile, and beyond. They are proud to include gourmet foods of the highest quality as found in publications like Sunset, Bon appetite, and Wine Spectator.
Van's Gifts' have been creating their award winning Gift Baskets since 1984. They are featured this month in the Wall Street Journal, Holiday Issue "Maximum Style," and have been voted by them number one for originality in the category of gift basket "after-use." This year, Van's Gifts is offering free shipping and discounts of up to 25% on some of their most popular selections.
When shopping for gifts to hand deliver to employees, clients, or to give at a party or meeting, items can be bought in bulk to save with Van's Gifts Pallet Direct Program. When you buy pallet direct, your items are discounted. Each gift basket is individually boxed, ready to hand out, and shipping is included.
Clients save when they place their orders online with an automatic 5% discount. Beginning with orders valued $1,500 an automatic 6% discount is applied, and up to a 9% savings will be applied depending on the order value.
They encourage readers to visit Van's Gifts website at http://www.vansgifts.com to order corporate and personal gifts and take advantage of their free shipping offer. Van's Gifts has selections for wine connoisseurs, chocolate lovers and more. With over 25 years of knowledge and experience, they provide only the best service and products in the gift giving industry. They deliver a first-class experience with every gift guaranteed.