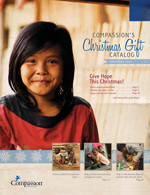 Our annual gift catalog offers an easy way for people to make a difference in the life of a child during a busy holiday season.
Colorado Springs, Colo. (PRWEB) December 03, 2012
In a year when some experts project charitable contributions during the holiday season to drop, Compassion International has more than doubled the amount of revenue received through their annual Christmas gift catalog compared to the same time last year.
"Our annual gift catalog offers an easy way for people to make a difference in the life of a child during a busy holiday season," said Mark Hanlon, Senior Vice President of Compassion USA. "We have seen tremendous acts of giving so far from our faithful donors this year, and it's not over yet."
Compassion's Christmas Gift Catalog features over 35 different gifts in varying amounts for children living in some of the world's poorest communities and offers donors the ability to make their donation in honor of a friend or family member. Through a simple three-step process, donors can select a gift, such as the provision of clean water or emergency shelter during a natural disaster, designate an honoree and send a greeting card.
"[My husband] purchased a Water of Life system in my honor because my trip to Africa opened my eyes to the importance of clean water," said Sheri Beck, Compassion sponsor and child advocate from Valdez, Ala. "It was a gift exchange that was thoughtful, heartfelt and reminded us how wonderful it feels to share with others."
On average, Americans make 24% of their annual donations between Thanksgiving and New Year's, according to research from the Center on Philanthropy. With four weeks until New Year's Day, there is still plenty of time for people to select a gift that can help change the lives of children, a family and even an entire community. For more information on Compassion's Christmas Gift Catalog, please visit compassion.com/catalog.
Compassion International is the world's largest Christian child development organization that permanently releases children from poverty. Founded in 1952, Compassion successfully tackles global poverty one child at a time, serving more than 1.4 million children in 26 of the world's poorest countries. Recognizing that poverty is more than a lack of money, Compassion works through local churches to holistically address the individual physical, economic, educational and spiritual needs of children—enabling them to thrive, not just survive. Compassion has been awarded eleven consecutive, four-star ratings by Charity Navigator, America's largest charity evaluator.